Who is Responsible for My Slip and Fall over an Electric Scooter?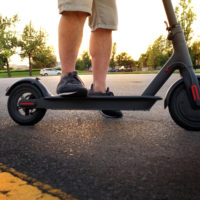 The City of Miami recently implemented a six-month pilot program that allows the rental of electric scooters in Coconut Grove, Brickell, Downtown Miami, Edgewater and Morningside. Six companies – Bird, Bolt, Jump, Lime, Lyft and Spin – are participating in the program. The City's website states that if the company is not addressing problems concerning electric scooters properly, the City will reduce or revoke the company's participation in the program. The most common question pedestrians and those on foot find themselves asking is, "Who is responsible if I slip and fall over an electric scooter?"
Slip and Fall Explained
A slip and fall is a type of personal injury that occurs when a person slips or trips and suffers injury as a result of the slip. If you're walking on the sidewalk it's possible for you to face injury from an electric scooter rider who is improperly using the sidewalk. Or, you could trip over the electric scooter since some riders drop the electric scooters off anywhere and leave them lying around the city.
So, Who is Liable for the Slip and Fall Due Over an Electric Scooter?
The use of electric scooters is fairly new in Miami and around the United States. Disputes surrounding electric scooters have yet to be tested in court. Until then, the following could be held accountable for slip and falls over an electric scooter:
The Electric Scooter Company. The company may seek to deny any liability and hold the rider responsible for any injuries that a person sustains from a trip and fall. But keep in mind that the scooter company is required to carry its own insurance to cover liability, personal injury and property damage.
The City. After all, a slip and fall is a type of premises liability. The City of Miami may be negligent for not making areas safe for pedestrians.
The Electric Scooter Rider. The rider may also be responsible because he or she left the scooter in a place where a person could trip over it. But it is important to note that scooter riders are not required to carry their own liability insurance.
Contact a Personal Injury Lawyer if You Slip and Fall Over an Electric Scooter in Miami.
If you're suffering injuries from an accident involving an electric scooter in Miami, call a Miami personal injury attorney. With the rise of the use of electric scooters, the attorney should anticipate the questions from people injured because of their existence. Since this is a new and complex area for pedestrians, it is best to seek professional legal assistance for your potential slip and fall claim rather than handling the matter on your own.
If you were hurt, contact the Miami personal injury attorneys at Spencer Morgan Law. We are a full-service law practice devoted to personal attention and service. Our firm offers free consultations and will provide you with aggressive representation.  Contact us at 305-423-3800. When you hire Spencer Morgan Law, we will treat you like family and work hard to meet your needs.
https://www.smorganlaw.com/4-things-to-consider-when-an-electric-scooter-causes-a-car-accident/