4 Things to Consider When an Electric Scooter Causes a Car Accident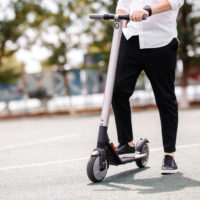 With Miami's recent implementation of the six-month electric scooter pilot program, the electric scooter is now a popular way to zip and zoom around downtown Miami – and with good reason. The electric scooter reduces our carbon footprint and minimizes traffic congestion on Miami roads. Finally, riding an electric scooter is fun. But each day, e-scooter riders hop on and get the feeling of being a kid again, without a thought about the risk of causing injuries to themselves and others, or even the risk of causing car accidents.
Although a recent CDC study suggests that the primary cause of e-scooter related accidents stem from riders injuring themselves rather than hurting others in an auto collision, there are times when an electric scooter collides with a motor vehicle. For example, a Miami Herald article reports that a Key West man dies as a result of his scooter colliding with a pickup truck.
Since electric scooters pose safety concerns in Miami, according to 7 News Miami, below is some information to consider in case you're involved in a car accident involving an electric scooter.
Florida Law Has No Definition for an Electric Scooter
According to Florida Highway Safety and Motor Vehicles, there is no exact definition for the electric scooter. Electric scooters currently fall under the definition of a motorcycle which is:
Any motor vehicle having a seat or saddle for use of the rider and designed to travel on no more than three wheels in contact with the ground.
The E-Scooter Rider Is Not Required to Carry Insurance
Florida law does not require electric scooter riders to carry insurance. But, if a rider's negligence such as swerving into the lane without warning, causes a car accident, the rider may be liable for damages to your car and any medical bills you incur due to your personal injuries. Also, if the e-scooter rider hits your car, the rider may be liable for damages to your car as well.
Scooter Riders Relieve Scooter Companies of Liability for Accidents
According to an article in Insurance Journal, scooter companies usually place the responsibility for accidents on electric scooter riders by listing in their agreements that riders relieve the companies of liability. In order to ride, customers must agree to these terms. This means if a driver attempts to sue the scooter company for the car accident, the company may not be liable due to the agreement with their customer.
Many scooter riders believe that their existing auto insurance policy will cover damages as a result of their negligence. This is not true. In order for a rider to keep from having to pay out of pocket for damages he or she caused, a rider would need to purchase a personal liability umbrella policy, according to Insurance Journal.
Electric Scooters Must Follow the Rules Too
E-Scooters may be a recreational source of fun, but riders must also adhere to the rules of the road, just as any motor vehicle. Electric scooters are not allowed to ride on sidewalks. They can only ride in the roadway with other vehicles and adhere to the traffic laws.
If you're suffering injuries from an accident involving an electric scooter in Miami, Call Spencer Morgan Law.
If you are in Miami suffering injuries received in an accident involving an electric scooter, contact the Miami personal injury lawyers at Spencer Morgan Law for a free consultation at 305-423-3800. When you hire Spencer Morgan Law, we will treat you like family, provide you with aggressive representation and make sure your needs are met.
Resources:
cnbc.com/2019/03/08/the-cdc-is-investigating-rise-in-e-scooter-injuries.html
insurancejournal.com/news/national/2019/06/28/530715.htm
miamiherald.com/news/local/community/florida-keys/article228661179.html
https://www.smorganlaw.com/pedestrian-accidents-are-on-the-rise-in-miami-florida/