What You Should Know About Miami T-Bone Car Accidents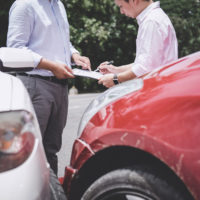 Imagine cruising in your vehicle, enjoying the sunny Miami weather and taking in a nice view of the beach scenery and palm trees. You're doing all you can to be a cautious driver and make sure you're following the rules of the road. You drive up to a red light and make a complete stop, as Florida traffic laws instruct. When the light turns green, you immediately drive through the intersection when suddenly your car is hit by another car on the passenger side. This type of auto collision is known as a T-bone car accident.
Injuries Caused by T-Bone Accidents in Miami
T-bone car accidents, also called side-impact accidents, typically occur at intersections and result in severe, life changing injuries. Some of the injuries as a result of T-bone car accidents include the following:
Traumatic brain injuries
Loss of limbs
Back and neck
Spinal cord
Chest injury
Whiplash
While any type of car accident can cause injuries, t-bone car accident injuries are more severe than a head on collision or rear end collision and have long lasting, damaging effects.
Holding a Driver Accountable for a T-Bone Car Accident
Florida law protects victims injured in T-bone accidents and holds the drivers who act negligently accountable. For the victim to prevail on a lawsuit for negligence, the victim must show the following:
Duty of Care.
Breach of the Duty of Care.
Causation.
A victim should never attempt to hold a driver accountable for a T-bone car accident alone. Always consult with a Miami personal injury attorney after the accident to discuss your options. The attorney will stand by your side as you take time to recover from your injuries, help you establish the principles of negligence, fight for your rights and get you the maximum compensation you deserve.
Additionally, your attorney will deal with the insurance company. This is one less aspect of the car accident for you to handle. The attorney will obtain any relevant evidence such as police reports or witness statements and negotiate a settlement with the insurance company.
Types of Recovery as a Result of a T-Bone Car Accident
Miami T-bone accident victims should always seek recovery advice from an experienced Miami personal injury attorney who has an understanding of the law. A Miami personal injury attorney will work to make sure you receive these types of recovery as available:
Medical bills and expenses
Lost wages
Pain and suffering
Loss of future income from work
Final burial expenses, if the T-bone car accident results in death
Each T-bone car accident is unique, so each type of recovery may not apply to your specific situation.
If you were injured in a T-Bone car accident in Miami, Call Spencer Morgan Law.
If you received injuries from a T-bone car accident, contact the Miami car accident attorneys at Spencer Morgan Law, at 305-423-3800 to discuss your T-Bone car accident case. We work on a contingency fee basis, meaning there's no fee or costs if we can't recover compensation on your behalf. Call now for a free consultation with an attorney.
https://www.smorganlaw.com/cell-phones-a-distraction-in-slip-and-falls-in-miami/