Cell Phones: A Distraction in Slip and Falls in Miami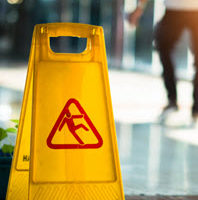 The technological advancement of cell phones has changed the way people move about through life. Everywhere you go you see people scrolling and texting away on their cellphones. People use their cell phones in the airport, standing in line at a concert, at the movies, or just when they're bored. Cell phones are no longer a mere means of communication, cell phones are a way of life. Because we rely on them for money (think Apple or Samsung Pay), and can't seem to walk through life without them, they are a primary distraction and contributor of slip and fall accidents in Miami and throughout the country.
How Cell Phones Play A Role in Slip and Fall Accident Cases
When you file a claim or lawsuit due to a slip and fall, the defense attorney and defendant's insurance carrier is tasked with proving their client had nothing to do with your slip and fall and showing that your actions are a contributing factor to the slip and fall.
Usually, you will receive a list of questions to answer concerning your slip and fall. Some of the questions include the following:
Describe what you were doing at the time of the slip and fall.
What types of shoes were you wearing at the time of the slip and fall?
What type of floor did you slip and fall on?
What was the weather like at the time of the slip and fall?
Since the implementation of cell phones, defense attorneys may now ask slip and fall victims:
Were you holding anything at the time of the slip and fall? (A purse, for example)
Were you talking on a cell phone at the time of the slip and fall?
Were you texting and walking at the time the slip and fall occurred?
The question pertaining to "holding anything" is a broad question, just to see what the plaintiff's response will be. The other questions about the cell phone are specific to cell phone activity.
The way you answer the questions about cell phone use can make or break your slip and fall case. If your actions contribute in any way to the accident, you risk not recovering the full amount of compensation you deserve. This is why it is important to have a Miami personal injury attorney specializing in slip and falls at your side. The attorney can work with you to keep from offering an answer to the defense attorney's questions that will be used against you.
Did You Receive Injuries from a Slip and Fall at a Miami Store, Restaurant, Resort or Other Property? Call Spencer Morgan Law.
If you were injured in a slip and fall, contact the Miami slip and fall attorneys at Spencer Morgan Law at 305-423-3800 for a free consultation. We will discuss your slip and fall injury and help you decide the best course of action to ensure you receive the maximum compensation you deserve. There are no fees or costs if we don't recover your damages.