What to Do If You've Been In a Fender Bender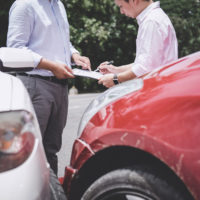 When individuals are driving daily, for work, family commitments, and pleasure, there are many opportunities for minor accidents, such as fender benders, to happen. But just because the accident is minor, does not mean it isn't without stress. After a Florida fender bender, reach out to a Miami car accident lawyer to discuss what happened and what the next steps might be.
Things to Do When You are In a Fender Bender
Stop the car after an accident. If the accident is minor, avoid more collisions by pulling off to the shoulder of the road. Be sure you are in a location that is safe and turn on your hazard lights so other drivers know you will not be moving right away.
From there, be sure there are no injuries. After an accident, it is good practice to seek a medical professional's opinion about your health and to be sure there were no injuries you weren't aware of, but at the site of a fender bender, first assess if any injuries need to be immediately treated.
Document and Exchange Information
Write down information about the accident while all the details are fresh and in front of you. Things you will want to note include what time the accident happened, where it occurred, what the weather was like, and other details that contributed to the situation.
Notes are very helpful, but it is also useful to take photos at the scene. Photos and videos that include any vehicle damage. Documenting the cars and location from multiple angles is a good rule of thumb. Then, if a question comes up later, you will have documentation on hand.
You will also want to get the contact information of the other driver, along with information about their insurance and vehicle.
Other driver information you will want to document:
The name of the other driver.
Insurance and registration information.
Contact information of the individual and their insurance company.
License plate number of the other car.
Vehicle information such as the make, model, and year.
Determining Damage and Fault After a Minor Accident
Damages from car accidents are not always obvious immediately while others are evident on the scene. Some signs that something may be wrong with your vehicle include fluid leaks, dents, inflated tires, unusual smells, and strange sounds.
But while you are assessing damages, do not talk about who was potentially at fault. Keep any discussion solely focused on the facts, such as exchanging contact information. Determining fault is not to be done by drivers at the scene, that will be done by the insurance companies. Also, talking to a Miami car accident lawyer can help you to determine damages.
Fender benders are common. If you have been in an accident, talk to a knowledgeable personal injury lawyer to discuss your options. There may be compensation available for doctor bills, vehicle repairs, and lost wages. Our attorneys at Spencer Morgan Law will fight for fair compensation. Contact us today at 305-423-3800 to schedule your free consultation.
https://www.smorganlaw.com/what-happens-when-personal-injury-claim-becomes-a-lawsuit/