What Happens When Personal Injury Claim Becomes a Lawsuit?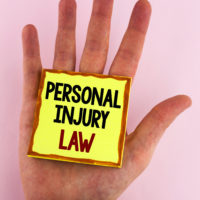 When you work with a Miami personal injury lawyer to file a personal injury claim, you are typically doing so with an at-fault person's insurance company. The claim is filed in order for you to acquire compensation for any damages. But, if the claim is unsuccessful or circumstances change, it may be possible to file a personal injury lawsuit. That lawsuit would be against the individual rather than the insurance company.
How to File a Personal Injury Claim After a Car Accident
If you are seeking compensation after a car accident, the case will likely begin with the at-fault driver's insurance company. The insurance adjuster may try to deny the damages. An experienced attorney can help you to establish the liability of the other driver.
Evidence that might be included to establish liability:
Statements from others at the scene.
A copy of the police report taken after the accident happened.
Photographs or video you or someone you know has taken at the accident site.
Any additional documentation that proves your case.
Even when fault is agreed upon, the at-fault driver's insurance company may attempt to reduce the compensation awarded. When you and your Miami car accident attorney enter into negations, it is common for each side to have a different idea about what compensation amount is fair. In those instances, when a claim is not agreed upon, the claim can then change into a personal injury lawsuit.
What to Do When a Claim Becomes a Lawsuit
There can be time limits for filing lawsuits, which may become problematic if the negotiations with the insurance company continues for a long period of time. For personal injury cases, under Florida's statute of limitations, you have four years to file a lawsuit. This timeframe is from the date of the accident.
At this stage, an experienced attorney will walk you through the discovery process. Finding facts and collecting records and documents happens at this phase. Before heading to the courtroom, there are still ways to negotiate. If you are able to reach a settlement with the other party, it could save you money, time and stress. A Miami car accident attorney working for you can tell you if your settlement offer is fair. If a settlement isn't possible, the case will go to trial and a decision will be made by the court.
Choose an Experienced Lawyer to Help with Your Claim or Lawsuit
If you are filing a claim, you need an attorney on your side, and it is essential that you choose one who has won similar claims and is able to take the lawsuit to court if needed. Accidents can be extremely upsetting emotionally and you need to know what next steps are best for your situation. Talking to an experienced lawyer will help you to understand if a personal injury claim is the best path for you and your family.
The attorneys at Spencer Morgan Law will fight for fair compensation. Contact us today at 305-423-3800 to schedule your free consultation.
https://www.smorganlaw.com/the-importance-of-ems-and-paramedic-reports-in-personal-injury-cases/