What to Do if You're in a Ride Sharing Car Accident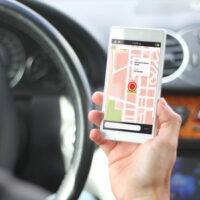 Ride sharing is a convenient source of transportation whether you just stepped off of your flight at the Miami International Airport to visit the city, take a cruise, spend time with family and friends or whether you simply don't feel like battling traffic on I-95. With thousands of ridesharing drivers in Miami, you have the opportunity to sit back, relax and enjoy the scenery Miami offers.
It doesn't matter if you take an Uber, Lyft or other type of ride sharing service, the last thought in your mind is getting in a car accident. Below are some tips for you to consider in case you find yourself in a ride sharing car accident.
Make sure police arrives at the scene of the accident. If not, take the first step and call 911 so a police officer can perform an investigation of the scene, determine fault, and write up a police report. The police report contains key facts that will come in handy when it's time to file a claim with the insurance company.
Exchange Information with the Drivers
Gather as much information as you can about the driver. Information such as the ridesharing company name, the driver's contact information and insurance policy information is essential. The State of Florida requires rideshare drivers with Uber or Lyft to carry a higher amount of insurance beyond the states' minimum requirements.
Keep in mind that the driver may not be an employee of the ridesharing company. The driver may be an independent contractor or self-employed instead.
When someone calls 911, the call triggers emergency medical services and fire to arrive on scene as well. EMS includes ambulance services who will ask you if you'd like to be transported to the hospital. Always respond with a resounding yes, even if you're not in pain at the time.
A medical provider will be able to treat your injuries and determine a plan of action for further treatment. Most importantly, the injuries will be documented in case a lawsuit arises out of the ridesharing car accident.
If you received any personal injuries from the ridesharing car accident, you should collect your medical bills, and records from your human resources department from your place of employment concerning the pay you lost from the time you had to take off of work to recover.
Decide Whether to Hire a Lawyer to Recover Costs
Determining fault and dealing with the insurance company is not easy, especially when you're recovering from injuries. Take some time to determine whether you should hire a lawyer to handle your personal injury case. The lawyer will ensure that your needs are met and work to get you the highest level of compensation you deserve.
If you experience a ridesharing car accident while in Miami, Call Spencer Morgan Law.
If you find yourself involved in a ridesharing car accident, contact the Miami car accident lawyers at Spencer Morgan Law at 305-423-3800 to discuss your personal injury case. Consultations are free and there's no fee or costs if we can't recover compensation on your behalf.
https://www.smorganlaw.com/what-do-i-do-after-a-multi-car-accident/