What Do I Do After a Multi-Car Accident?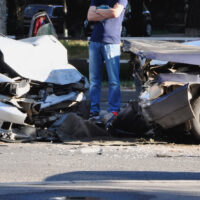 If you drive, you know that car accidents happen. But knowing that fact does not make the idea of being in an accident any less frightening. The Florida Highway Safety and Motor Vehicles Department estimates there approximately 400,000 car accidents in Florida every year.
Sometimes, car accidents involve two vehicles. In other instances, there are several vehicles. When multiple vehicles are involved, there can be confusion on who is legally liable. There are even instances when there is not one at-fault driver but several. With all of these moving parts, many people wonder, what do I do if I'm in a multi-car accident?
Why Several Vehicles Are Involved
Often, there is a chain reaction that results in a multi-car accident. Because of this, if you are involved in a multi-car crash, you should not move your car so police can determine how the chain reaction started.
That said, there are situations when this might not be the case. Safety is always a top priority and in some multi-car accidents vehicles need to be moved away from a busy traffic area to avoid even more collisions.
The police will not only take in the scene of the accident, they will likely also collect driver testimony. The evidence and the testimony will come together in the police officer's report. The report will likely determine who is at fault. Officers will also assess if other issues contributed to the accident, such as drinking, speeding, or distracted driving.
What to Do When You Are Involved In a Multi-Car Accident
Typically, you should follow the same rules you follow when you are in a single vehicle accident.
Remain in your vehicle, provided it is safe to do so. Wait until there are law enforcement officials or EMTs on the scene. They will tell you when it is safe to leave your vehicle.
Document your perspective with photos or videos. Record the scene but also document what you remember and any details that come to mind, it could be important when it is time to make your insurance claim.
Exchange insurance information with other drivers but keep your conversations short and official. Don't apologize or make excuses. Let the officials do their job and decide who is the at-fault driver.
Contact your insurance company to report the accident.
Multi-car accidents can cause physical injury and, at times, multiple parties are blamed. Accidents result in stress, trauma, and physical pain. It is the right of injury victims to seek compensation and relief for the harm they suffered, but there can be time limits on your claim according to the law. If you have been in a car accident in Florida, you need to talk to an attorney.
If you have experienced an injury as a result of the accident or suspect you have received wrongful blame, contact the Miami car accident lawyers at our office at 305-423-3800 to discuss your case. Because Spencer Morgan Law works on a contingency fee basis, there are no fees or costs until  compensation is secured.
Resource:
flhsmv.gov/resources/crash-citation-reports/
https://www.smorganlaw.com/what-not-to-do-after-a-car-accident/