What If I'm Pregnant and in a Miami Car Accident?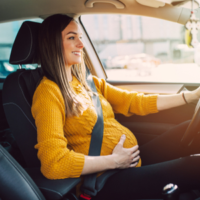 It is common to be upset and frustrated following a Miami car accident, and you may be worried about your health. This can be especially true for women who are expecting. She may be fearful for both her health and the viability of the pregnancy.
Everyone should see a healthcare provider after a car collision to have their health assessed, and this is true for pregnant women too. After all, her health and the health of her unborn baby need to be reviewed. There can be expenses involved with medical care, but a Miami car accident lawyer can help negotiate your insurance claim and get the settlement amount you need to pay your bills.
Risks to Pregnant Women and Unborn Babies
The risks to a pregnant woman involved in a car crash depend on the type of collision and what type of accident they are involved in. For example, if a woman is in the first trimester of her pregnancy, in other words the first twelve weeks, there is less risk to the fetus as they would not be injured by sudden jolts in the same way as a fetus in the last weeks of gestation.
Severe injuries to the unborn baby is possible when the pregnancy is further along. There could be uterine injuries or placental abruptions, which are dangerous for both the woman and the unborn baby. If the placenta detaches, the baby's oxygen supply could be disrupted. And uterine injuries may prompt internal bleeding. These injuries can be catastrophic.
Indicators of Health Issues
While a pregnant woman should not wait until she feels symptoms after a crash, there are indicators of a concern. But seeing a doctor as soon as possible is advised, with or without symptoms. Symptoms and indicators could include one or more of the following.
Baby's movements stop or change.
Experiencing painful and urgent urination.
Loss of consciousness.
Severe or continuous headaches.
Change in the baby's movements.
Generally feeling something is wrong.
Chills, aches, or a fever.
In order for a pregnancy to continue to be viable, there needs to be care and caution. Prompt professional treatment following a Miami car accident is essential. Then, follow the treatment plan of your healthcare professional, both for your own health and for the strength of a possible personal injury claim.
If you are concerned that only the cost of fixing your car will be covered by insurance, know that a damage recovery settlement can include so much more. Talk to a Miami car accident lawyer to learn more. With a legal professional on your side, you could secure medical expenses for assessing a pregnant woman's injuries, lost wages, and compensation for pain and suffering.
Are you a pregnant woman who was injured in a Miami car accident? Talk to the Miami personal injury attorneys at Spencer Morgan Law. Accident cases can be complex, a knowledgeable attorney is needed to navigate the complicated negotiations with insurance companies and legal professionals. Contact us today at 305-423-3800 to schedule your free consultation.
https://www.smorganlaw.com/car-accidents-and-miami-rideshares/