Car Accidents and Miami Rideshares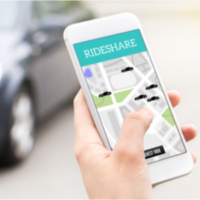 While many rely on the convenience of ridesharing apps such as Uber and Lyft to get around Miami, there are risks to using these forms of transportation. The companies themselves rarely share data on how many accidents occur, but it is a fact accidents do happen. How a person would be compensated after a collision depends on the situation and if the Uber driver or Lyft driver had a passenger at the time.
If you or someone you care about was in a Florida crash involving a Lyft or Uber, contact a Miami car accident lawyer for legal assistance. Compensation may be difficult to secure. While these alternative forms of transportation may be handy when you do not want to take public transportation or drive yourself, accidents involving rideshares differ from collisions with other types of vehicles.
Driver's Insurance or Ridesharing Company's Insurance
One of the reasons that insurance claims can be complex after an accident with a Lyft or an Uber is that rideshare company drivers are not employees, they are independent contractors. This means their cars are their own personal vehicles.
Because the vehicles are being used for both personal and business use, small details make a big difference in the strength of a car crash claim. For instance, if a driver does not have a passenger in the vehicle, the ridesharing company may say the issue needs to be taken up with the driver's personal auto insurance policy. But if the driver had a customer in the car, or was waiting for a customer to enter the vehicle, the expenses of the accident may be covered under the ridesharing company's insurance.
Parsing out the details can be complicated and it is common for ridesharing companies to resist paying out on claims. This is frustrating for many accident victims as rideshare drivers are often navigating areas of the city they are unfamiliar with and accidents happen when drivers are confused or driving erratically.
What to Do After an Uber or Lyft Accident
Be sure to protect your best interests after a vehicular accident, including those involving a ridesharing vehicle such as an Uber or Lyft.
Collect the names of the Lyft or Uber drivers and their contact information.
Gather insurance information from all parties involved.
Write down the details of the vehicles or take pictures so you have documentation of the make, model, and license plate numbers.
Ask witnesses for their contract information.
Take photos or videos of physical injuries and damage to property.
Documentation is always helpful when filing a personal injury claim and can especially be beneficial when multiple insurance companies are involved, which can be true in ridesharing cases.
Did an Uber run into your car or were you injured while riding in a Miami Lyft? Talk to the Miami personal injury attorneys at Spencer Morgan Law. Accident cases can be complex, a knowledgeable attorney is needed to navigate the complicated negotiations with insurance companies and legal professionals. Contact us today at 305-423-3800 to schedule your free consultation.
https://www.smorganlaw.com/pip-reform-in-florida-and-your-miami-claim/