The Legal Elements of a Medical Malpractice Case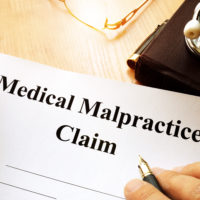 Though medical malpractice laws vary from state to state, medical malpractice is generally defined as any act or omission by a healthcare provider during treatment of a patient that deviates from the accepted standard of care and that results in injury to the patient. When a physician or healthcare provider commits medical malpractice, the injured party may sue him or her for negligence, a practice possible thanks to tort law.
Tort ultimately means wrong, and it is a body of law that creates and provides remedies for wrongdoings that are neither criminal nor that arise from breach of contractual duties. Our medical malpractice laws today have their origins in 19th century English common law and form the basis of tort law in the U.S. Though the concept of medical malpractice has remained the same in the United States, the framework and rules that govern it have since evolved based on the decisions filed in state courts. Now, today's plaintiffs must prove four essential elements to prevail in a medical malpractice case.
At Spencer Morgan Law, our Miami medical malpractice attorneys are experienced in medical malpractice law. When evaluating potential clients' cases, we look for the existence of the four elements that make a successful claim of medical malpractice before agreeing to take on a claim. This post explores what those four essential elements are.
Four Essential of a Medical Malpractice Claim
The four legal requirements the courts look for plaintiffs of medical malpractice cases to satisfy include the following:
A legal duty on the part of the medical provider to provide treatment or care to the patient;
A breach of this duty that involves the provider failing to adhere to the standards of the profession;
A causal link between the breach and injury to the patient; and
The existence of damages that the legal system can provide redress.
Legal Duty
 A legal duty exists whenever there is a professional relationship between patient and healthcare provider. A professional relationship is established once a doctor agrees to provide treatment to a patient or undertakes the care of a patient in a professional setting.
Breach of Duty
 To prove breach of duty, the plaintiff must show that the provider failed to meet the standard of care established by other professionals in the field. While the standard of care concept is often elusive in its application, expert witness testimony can help a judge and jury understand how any other provider would have acted given the same circumstances.
Causation
 Without injury, a breach is essentially meaningless. The claimant must not only be able to prove that he or she was injured by the healthcare provider but also, that the injury stemmed from the alleged misconduct.
Damages
 Finally, the plaintiff must show that the injury or injuries sustained resulted in actual damages. Mere inconvenience does not amount to damages. Additional medical expenses, prolonged missed periods of work, and physical therapy costs that resulted because of the malpractice, however, do.
Work With a Miami Medical Malpractice Lawyer
Medical malpractice cases are difficult to win, especially without expert testimony and additional resources to which most people do not have access. For this reason, if you or a loved one was injured by a healthcare provider, you should not try to fight your case on your own but rather, retain the help of a medical malpractice attorney in Miami who is familiar with medical malpractice law and who can help you gather the evidence necessary to prove your claim. At Spencer Morgan Law, we have such attorneys. Contact our law firm today to learn more or to schedule your free consultation.
Resource:
ncbi.nlm.nih.gov/pmc/articles/PMC2628513/
https://www.smorganlaw.com/who-is-at-fault-in-a-prescription-liability-case/