Who is at Fault in a Prescription Liability Case?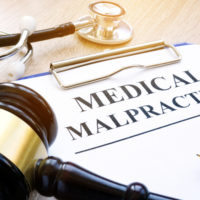 When you see a physician or pharmacist about a prescription medication, you trust he or she will fill your prescription properly. Unfortunately, it is not uncommon for a physician, pharmacist, or pharmaceutical company to breach a patient's trust. According to the U.S. Food and Drug Administration, there are approximately 100,000 reports a year that cite prescription medication errors as the cause of injury. The FDA routinely monitors these reports to determine the cause of the error and to establish liability. However, because of the complex nature of prescription medications, the question of liability can be a tough one to answer and may involve tracing an error all the way back to the development of the drug's molecular structure. Of course, some errors may be easier to spot and occur directly in the pharmacy. That said, depending on the type of prescription error that occurs, a different person or entity may be liable. Here we will discuss to whom responsibility befalls in prescription drug liability cases.
Why Do Prescription Errors Happen? 
Errors in life happen. However, some are worse than others. Prescription drug manufacturers and doctors alike have the responsibility to make sure patients receive safe and effective drugs. Prescription errors occur for the following reasons:
Failure to warn of potential side effects;
Incorrect prescriptions or dosage;
Failure to adjust prescriptions according to changes in a patient's condition;
Failure to review a patient's medical history and drug allergies;
Dangerous combinations of medications; and
Incorrect instructions for administering the medication.
These errors can lead to serious injuries and even death. When an injury does occur, who is liable?
Determining Liability 
Though you can protect yourself by doublechecking with both your doctor and your pharmacist to make sure your prescription is correct, there are some errors that are entirely out of your hands. Such errors may occur at any point in the manufacturing and distribution process. An experienced Miami medical malpractice attorney can employ the appropriate resources and launch an investigation to determine who is liable for your injuries. Some parties our team at Spencer Morgan Law would investigate include the following:
Physicians and Medical Professionals 
Physicians, nurses, and other clinic or hospital staff have a responsibility to warn of potential side effects. If they fail to do so, they may be held accountable for any injuries or other consequences a patient experiences.
Pharmacists 
A pharmacist's job is to dispense prescription medications along with all necessary information. Each medication must be correctly labeled with proper dosage and instructions. A pharmacist must also check for potential drug interactions. Failure to do so could lead to serious injury to a patient. If it does, he or she may be held liable.
Manufacturers 
Manufacturers hold the responsibility of producing a quality product along with a list of side effects and instructions for use. If they fail to meet the standards they promise, they should be held accountable. These cases can affect a large group of people.
Laboratories
 Research labs perform comprehensive testing of each drug that goes through their lab. Should the lab release incomplete or falsified results, it could be held liable. 
Contact a Miami Medical Malpractice Attorney About Your Case
Do you think you have a prescription liability case? Determining fault in these cases can be difficult, so you will need the best legal assistance you can get. Contact an experienced Miami medical malpractice lawyer to help with your case. Some cases may impact a large number of people, so it is important to file your case with an attorney. If you have any questions about a prescription error case or wish to file a lawsuit, contact the office of Spencer Morgan Law.
Resource:
fda.gov/drugs/resourcesforyou/consumers/ucm143553.htm