Speeding Miami Drivers Create Risks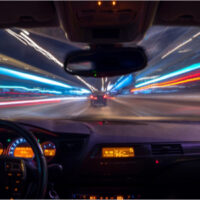 Speeding, driving faster than a posted speed limit, happens all of the time. Some people speed so often they forget they are driving too fast, but speeding creates dangers to the driver and others on the road. One report cites speeding as a factor in nearly 10,000 U.S. fatal accidents each year. Slowing down is important, it's a simple way for cars to reduce the possibility of accidents and injuries.
Loss of vehicle control and an inability to stop in response to an unexpected change on the road are two of the ways speeding cars create risks. Speed-related accidents can be avoided, but when crashes do occur there are compensation options. A Miami car accident lawyer can help.
Risking More than a Traffic Ticket
When motorists drive fast, over speed limits, they may think the consequence of their behavior could be a speeding ticket. In reality, they are risking much more. The danger of speeding are wide reaching and include the following:
There can be devastating physical harm and extensive property damage if a speed-related accident were to happen.
Fast cars means changes occur quickly, drivers may not have enough of a response time to avoid a collision.
Fuel consumption increases at higher speeds.
The space needed to come to a stop increases at high speeds.
Car safety features are designed for use at or under legal speed limits, high speeds can make them less effective.
When speed limits are established, experts are taking a variety of factors into account. For instance, they may assess the traffic flow of the area and what stopping distances may be necessary. The limits are in place to keep everyone using the roads safe, disregarding speed limits means the roads are riskier for everyone using them.
Talk to a Miami Attorney After a Speed-Related Crash
After a car accident injury, it is possible there will be a lot of fees, charges, and expenses. Of course, the number one priority is healing, but in order to get there you may need to stay in a hospital, participate in an array of tests, attend multiple physical therapy appointments, and begin taking prescription medications. Compensation is often necessary in order to handle all of the financial responsibilities following a speed-related accident.
Seeing a doctor for medical assessment and treatment is essential after a Florida car collision. Then, share the details of your event with a Miami car accident lawyer. Your attorney will work toward securing a fair settlement from the insurance company. When insurance is not the right path, legal action could be considered. With a lawyer on your side, you can be confident documentation is gathered appropriately and all of the legal details are considered.
Were you struck by a speeding car in Miami? Talk to the Miami personal injury attorneys at Spencer Morgan Law. Accident cases can be complex, a knowledgeable attorney is needed to navigate the complicated negotiations with insurance companies and legal professionals. Contact us today at 305-423-3800 to schedule your free consultation.