Risks of Walking While Distracted In Miami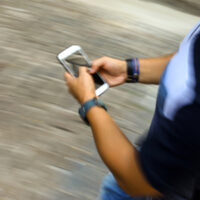 While everyone knows it is dangerous to text while driving, many do not consider the risks of texting while walking. Distracted driving is a major cause of traffic collisions and there are risks to being distracted while walking as well. Because walkers need to pay attention to what is happening around them. If you are focused on your phone rather than your environment, you could fail to see a car when crossing the street or trip on an uneven sidewalk or broken driveway.
If you were in an accident because of a distraction, connect with a Miami personal injury lawyer. An attorney can assess your situation and determine if damage compensation is a possibility.
Tips to Keep You Safe While Walking
If you love to take advantage of beautiful Miami weather with a stroll through your neighborhood, that can be healthy behavior. Just be sure to stay alert as you navigate crosswalks and vehicles.
Ways to stay safe when walking:
Never assume a vehicle can see you. When one vehicle stops, there could be another behind them that does not see you in the crosswalk. Always look for moving vehicles.
Keep sound low. If you are wearing earbuds or headphones, keep the sound at a reasonable level so you are aware of noises around you.
Do not stop in the middle of the road. Cross a road completely and stay within the crosswalk. If you receive a text and want to respond, wait until you are off the road and stand somewhere safe to respond.
Stay visible. If the weather is overcast or you are walking at night, wear light, reflective clothing. When wearing all black at night, recognize you will be hard to see.
Don't jaywalk. Always cross at appropriate places, locations where traffic will be expecting pedestrians.
It is also important to point out that traffic is not the only way pedestrians get hurt. Uneven surfaces, such as broken driveways, can lead to a person falling down unexpectedly. Falls can result in broken bones, concussions, scrapes and cuts.
When you are using the streets of Miami, accidents are possible. This does not mean you should be constantly worried, it simply means it pays to be prepared. Because if you are staring at your phone while walking, you are not paying attention to your surroundings. Then, you may twist your ankle on a curb or not notice a car barreling down the road until it's too late.
Talk to a Lawyer After a Pedestrian Accident
If you are involved in an accident, as a driver, pedestrian, or bicyclist, talk to a Miami personal injury lawyer. Distracted drivers and distracted walkers are common. Damage compensation is possible when the behavior of another caused an accident.
Were you injured in a Miami pedestrian accident? Talk to the Miami personal injury attorneys at Spencer Morgan Law. Accident cases can be complex, a knowledgeable attorney is needed to navigate the complicated negotiations with insurance companies and legal professionals. Contact us today at 305-423-3800 to schedule your free consultation.
https://www.smorganlaw.com/how-to-file-a-miami-personal-injury-claim/