Prevent Boating Accidents While Visiting in Miami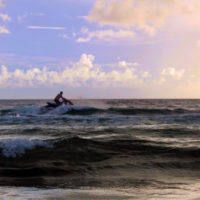 Miami is a hotspot for people seeking warmer weather in the fall and winter months. Activities that cannot be participated in at home can be found in Miami such as relaxing on beaches and getting out on the water on boats. We want everyone to enjoy their time in Miami, so below we've included some tips to help you prevent boating accidents while visiting Miami.
Tourists of Miami will be able to take in many views of the skyline and cruise down Biscayne Bay and take glass bottom boat cruises to see what's under the sea. Take these steps to prevent boating accidents and personal injuries while boating in Miami:
Watch Your Step
Whether getting in a boat or off a boat, you should be sure to watch your step. Boats often include ladders or steps to assist in getting on and off. Unfortunately, people miss the step and often fall down.
Wear Proper Shoes for Boating
Anytime you get on a boat, you should wear proper footwear. High heels do not belong on boats, especially glass bottom boats. Shoes with a strong grip on the bottom, casual shoes, and flats are highly recommended.
Beware of the Weight and Occupancy Rate
If the boat carries too much weight and too many people, you risk the boat overturning or even sinking.
If for some reason the boat is over it's weight and occupancy limit, you should alert the boat driver and also get off of the boat until it is safe for you to ride.
Watch the Weather
If a boat is operating in inclement weather, you should not risk your life. Boat drivers should be weather aware prior to taking passengers for a ride.
Wear a Life Jacket
This is self-explanatory. But if the boat vendor does not provide a life jacket for you, bring your own life jacket. Life jackets save lives.
Use the Boat Rails
The boat should have rails or handles for you to use when getting on, off, and while riding the boat. Use these rails as you never know when the water will get choppy. Use every opportunity to use whatever safety measure the boat has in place for riders.
Do Not Boat Under the Influence
No one should participate in boating under the influence (BUI) of drugs or alcohol. If you suspect the boat driver is boating under the influence, alert authorities immediately.
Many of boating accidents are preventable by taking an extra step of caution. Protect yourself and your loved ones by adhering to these safety tips as well as any other tips not included on this list.
Injured in a Boating Accident? Contact a Miami Boat Accident Attorney
If you or someone you know has been injured in a boating accident, you need an experienced and knowledgeable Miami maritime accident lawyer with experience in boating accidents to help you get the maximum financial compensation you deserve.  Call Spencer Morgan Law as soon as possible at 305-423-3800 to schedule your free consultation.
https://www.smorganlaw.com/best-safety-practices-for-cruisers-out-of-miami-to-prevent-boat-accidents/