New Construction Worker in Miami? Three Reasons Why Inspections Are Important in Preventing Construction Accidents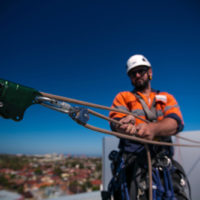 The construction industry is an exciting field for a new worker looking for job stability, the opportunity to gain a skill, and the possibility to make a good living. But, new workers should be aware of the risks of working in the industry. The construction industry is a dangerous one for any worker — meaning construction accidents can and often times, do happen.
According to the latest numbers from the U.S. Census Bureau, Miami is the second fastest growing city in Florida. Fast growing cities opens the door for more development and more construction projects.  And with the USG Corporation and U.S. Chamber of Commerce's report showing confidence that the construction industry will bring new business opportunities and projects within the next 12 months, the need arises for hiring new workers. This means new workers will be entering the construction industry, unfortunately, at a higher risk for injury.
If you're a new construction worker, you must maintain a level of safety beyond what you could even think of to help prevent accidents from occurring. For instance, did you know that construction inspections play an important role in preventing construction accidents?
The Need for Construction Inspections
A construction inspection is a comprehensive review to make sure everyone – including the general public — is safe. While on-site you may even see a construction site inspection checklist. The checklist helps to record and maintain a record of the inspection. These are 3 reasons why inspections are important:
Inspections Ensure Workers Get Training
Inspections make sure you get the training necessary to perform the job for the construction project. Training is crucial to the safety of a construction worker.
While on-site you may hear the same rule or safety precaution repeated every day. This does not mean that you should listen to them any less. Read the safety manuals and attend the safety trainingsM. Learn how to operate the equipment the right way. Doing so can be the difference between preventing an accident or experiencing one.
Inspections Ensure You Wear Proper Equipment
An inspection can make sure you wear the right equipment specific to the project. For example, if your project requires you to wear gloves, goggles and a specific type of work boot such as steel toe, you should wear them at the job site each day. Do not make the mistake of substituting a steel toe work boots for a regular soft boot or even a composite toe boots. Wear the boot that is specific to the project.
There are several instances where the worker was in violation of safety protocols by not wearing the appropriate safety equipment. Certain laws require you to wear protective equipment where necessary.
Inspections Can Prevent Construction Accidents
Construction inspections provide the opportunity to fix issues at the construction site, but even then, a construction accident can still take place.
Remember when the pedestrian bridge that was under construction made news headlines when it collapsed last year?
The OSHA June 2019 report shows that the engineers failed to recognize that the bridge was in danger of falling, even though the inspection took place hours before the accident. The report also indicates that the bridge had design deficiencies.
Who is Accountable for Failure to Inspect?
Because a construction project is a multi-person task, any of the following can be liable for failing to inspect:
Your manager
The owner(s) of the construction site
The engineers
Contractors and subcontractors
Everyone, including you as the new worker, has a responsibility to maintain safety on a construction site. Proving liability for accidents due to failure to inspect is complex. Actions must be negligent. This is why even new workers need a construction accident attorney as a resource for when accountability situations occur.
What Should I Do If I Feel Working Conditions Are Unsafe After an Inspection?
You have the right to a safe workplace and have the right to report unsafe conditions, without fear of retaliation. You can file a complaint with OSHA or a knowledgeable workplace accident attorney can file a complaint on your behalf.
In case you prefer to file a complaint on your own, you can file online, by phone, mail or fax with the local OSHA office for Miami-Dade County:
Fort Lauderdale Area Office
1000 South Pine Island Road, Suite 100
Ft. Lauderdale, FL 33324
954-424-0242
954-424-3073 (Fax)
Injured while working at a construction site in Miami? Call Spencer Morgan Law.
If you or someone you know suffers from injuries at or near a construction site, schedule a confidential consultation with an experienced Miami construction accident attorney at Spencer Morgan Law at 305-423-3800. We are available to take your call 24 hours a day and there is never a fee or cost to you if we do not obtain a recovery.
Resources:
census.gov/newsroom/press-releases/2019/subcounty-population-estimates.html
osha.gov/doc/engineering/pdf/2019_r_03.pdf
uschamber.com/report/usg-us-chamber-of-commerce-commercial-construction-index-2019-q2
https://www.smorganlaw.com/how-to-recover-compensation-for-injuries-sustained-during-a-fall-on-a-construction-site/