Miami Jet Ski Accidents Result In Injuries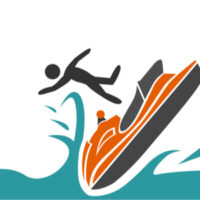 Florida is known for sunny skies and stunning beaches. Many take advantage of these state assets by spending a day on the water enjoying a ride on a jet ski or another type of personal watercraft. The goal is always to have fun, so many do not assess how dangerous these machines can be. Smaller in size than boats, personal watercraft vehicles are swift and can easily make fast turns, which can lead to accidents.
If you or someone you love has been involved in an accident involving a personal watercraft, contact a Miami boat accident lawyer. Just as motorcycle riders can suffer injuries that are more severe than individuals who are protected by a car chassis, jet skis can result in injuries that are even more severe than boaters experience. Every situation is unique, a lawyer will advocate for you.
Personal Watercraft Accidents Happen for a Range of Reasons
There are a variety of ways jet ski accidents occur. And they happen on a variety of machines.  Many crafts are referred to by their trademarked brand names, such as Jet Ski, WaveRunner, or Sea-Doo, but all of them carry risks to owners, operators, and passengers.
Ways personal watercraft accidents happen include the following:
Fire, due to engine explosion or other issue
Colliding with buoys, docks, debris, or other vessels
Capsizing the machine
Speeding that results in loss of control
A swimmer is struck in the water
Watercraft is grounded with sand bar
Inexperienced drivers
According to law, personal watercraft vehicles are motorboats. That means they are subject to the same laws. Yet, they have their own unique qualities that make them different from larger boats.
Sometimes, the machines are released to the public with defects. If an accident occurs because of a damaged part, such as a defective throttle, the manufacturer may be liable. These cases can be complex. But often, the accidents are the result of personal recklessness, inexperienced operators who lose control and then crash the vehicle.
Another issue, even for jet ski operators with years of experience, is the person riding the personal watercraft begins to try to impress others with tricks. Jumps and other stunts, whether done for an adrenaline rush or to show off, can be extremely dangerous, particularly if swimmers are in the area. There are even times when riders lose control and collide with people or buildings on the shore of the water.
If another was driving a Jet Ski, WaveRunner, or Sea-Doo and you were injured, a lawsuit may be possible. And if you were the passenger, you were not in a position to avoid a crash. Sometimes it's impossible to even prepare for an impact, resulting in a passenger being thrown off the vehicles. Severe injuries, drowning, and fatalities can follow.
When an accident involving a personal watercraft results in injury, you need Miami boat accident lawyers on your side. You deserve justice and we work on a contingency fee basis. Call Spencer Morgan Law at 305-423-3800 for a free consultation.
https://www.smorganlaw.com/ways-insurance-companies-avoid-personal-injury-claims/