Medical Records and Personal Injury Cases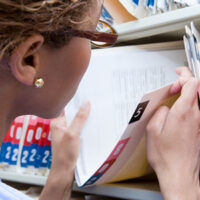 While medical records are private, there are situations when it is in your best interest to let others see your records. This is particularly true if the actions of another person caused you personal injury. In the context of a personal injury case, your medical records are often a crucial piece to the puzzle needed for you to secure compensation.
Because of this, it is important to remember that when you file a personal injury claim the other party may have access to your records, even if that party was negligent. Do not say anything to your healthcare provider that could impact the strength of your case. Discuss your situation with a Miami personal injury lawyer.
Best Practices for Your Personal Injury Claim
An essential component of your case, you need to be careful with your medical records each step of the way. When records are clear, complete, and conclusive, they can provide the medical proof needed to secure your personal injury case. That said, if the records are murky or incomplete, a court could decide not to award compensation, even if other evidence points to reckless behavior from the other party.
To strengthen you case, do the following:
See a medical professional promptly
Follow all medical directions
Share your story with your doctor
Be clear about pains and concerns
If you fail to see a doctor or another medical professional after an accident, the other party could claim you did not sustain injuries as bad as you are claiming. This same line of dismissing your side of the story can happen if you do not follow the directions given to you by hospital staff or if you did not accept a doctor's suggestion for follow-up appointments.
When you meet with your doctor or medical team, share your story with them. Tell them how you were injured and where it hurts. When you tell your doctor about the accident, it connects your injuries to the event. If you do not share your story, the other party may attempt to connect your injuries to a separate event, one they are not responsible for.
And if you have multiple appointments, discuss the particulars of your limitations and pains at every visit. This is important so your doctor can adjust your treatment plan, if needed, and so your injuries remain connected to the accident. When reviewing your medical records, the court could take lingering pains into account so you want to be sure they are documented on your medical record.
Talk to a Miami Personal Injury Lawyer Today
Seeing a doctor as soon as possible and then connecting with a legal professional is your best path to optimal compensation. A lawyer can help.
Have you been injured in an accident? Are you regularly seeing doctors and coping with personal injuries as a result? You need to talk to a Miami personal injury lawyer you can trust as soon as possible. Our lawyers provide no-cost, confidential consultations. Contact Spencer Morgan Law at 305-423-3800 to discuss your case.
https://www.smorganlaw.com/signs-you-might-be-a-medical-malpractice-victim/