Head-On Car Crashes In Miami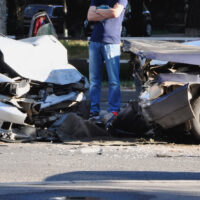 All car accidents have the capacity to be terrible and terrifying events. After all, severe injuries and fatalities are possible when two vehicles impact one another, and head-on crashes can be particularly frightening. Sometimes the impact happens out of nowhere, in other situations a driver sees another vehicle heading toward them but is not able to avoid an accident.
When there is a head-on collision, injuries can happen in a variety of ways. Even safety features, which are designed to save lives, can cause harm. Deployed airbags can cause lacerations and broken bones, for example. Whatever your injury, a Miami car accident lawyer can walk you through compensation options.
What Injuries Can Result from Head-On Car Accidents
Major injuries can happen when two cars collide and recovery times can be long. Some find themselves coping and healing from car accident injuries for the rest of their lives following the event. When two large machines impact one another with extreme force, lives can be lost. For those who survive, it is important to seek medical attention as soon as possible.
A few types of the injuries that can result:
Lower body harm. Legs and feet can be crushed in head-on crashes or be injured when impact is made with the car dashboard. Muscles can be injured, ligaments can be torn, and bones can be broken.
Injuries to midsection. Seatbelt and airbags are important car safety features that do save lives, but they can do harm, too. People have experienced cracked ribs, fractures, and internal organ damage due to deployed airbags and seatbelt force.
Harm to neck and spine. Extreme motion can cause whiplash along with disc and vertebrae harm. Severe spine damage can result in paralysis. In cases that are not as severe, physical therapy may be necessary.
Traumatic brain injuries. When a person's brain shakes violently or a head makes impact with a dashboard or another surface, intense harm can result. Some victims report blurred vision and confusion. Others have impaired cognitive function.
Head-on collisions can alter a person's life. Accident victim's should not have to handle all of the financial burden if another caused the car accident. A seasoned lawyer knows what evidence is needed to prove a claim and how to secure a financial settlement which could help to pay high medical bills and garner some of a victim's lost income.
Talk to a Miami Car Accident Lawyer
After a car accident in Miami, Coral Gables, Kendall, Weston, or the surrounding areas, a knowledge car accident attorney has the experience to help you and your family. When another is negligent, you should not have to pay the high medical bills incurred as a result of the collision.
Were you injured in a head-on car collision? Talk to the Miami personal injury attorneys at Spencer Morgan Law. If you or someone you love is recovering from severe injuries due to a car accident, you may have a right to financial compensation. Contact us today at 305-423-3800 to schedule your free consultation.
https://www.smorganlaw.com/rain-and-bad-weather-create-driving-risks/