Florida Prevents Personal Injuries with Going Hands-Free in Miami School Zones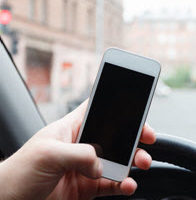 Because cell phone use has become a problem in Florida and throughout the nation, as of October 1, 2019, Miamians are no longer able to use or hold cell phones in school zones. The law stems from the ban on texting and driving throughout our state earlier this year. The limit on cell phone use throughout school zones prevents car accidents, pedestrian accidents and other personal injury accidents that occur from distracted driving.
A Brief Revisit of the No Texting While Driving Law
The Ban on Texting While Driving law went into effect on July 1, 2019, and states a person may not operate a motor vehicle while doing the following on a wireless communications device:
Typing
Sending messages
Reading messages
What is a Wireless Communication Device?
A wireless communications device consists of any handheld device capable of receiving or transmitting messages, storing data, or connecting to the internet. This includes:
Cell phones
Tablets
Laptops
Two-way messaging devices
Electronic gaming devices
Hands Free Cell Phone Use in School Zones Saves Children
CBS Miami reports that on Tuesday, October 1, 2019, law enforcement began warning drivers who were caught using wireless communications devices in school zones. This law pertains to any use of a phone or handheld device in any form, unlike the earlier no texting and driving law. Basically, no one can carry their phone in hand in a school zone in any capacity, regardless of whether the phone is in use or not.
According to a WFLA News article, 605 texting and driving citations have been issued throughout the state since July 1, with 463 of the citations coming from Florida Highway Patrol alone.
Fortunately, there is a grace period for the hands-free law. Law enforcement will issue citations for anyone found texting while driving starting January 1, 2020.
Texting While Driving Penalties
When January 1, 2020 rolls around, drivers will face a citation worth $113, according to an article by Fox News 13.
Construction Zones Apply to the Rule Too
The hands free law also prohibits drivers from using cell phones in any way, shape, or form in construction zones as well.
Meaning, you cannot hold your phone and scroll through social media, the news or shop on any app in a construction zone.
Far too many accidents happen in construction zones and construction workers. This law is also a way to protect the lives of construction workers and penalize drivers who put lives in danger by participating in distracted driving.
Spencer Morgan Law Cares about the Safety of Miamians
Did you receive injuries because someone did not participate in the new hands free and no texting while driving laws? Contact Spencer Morgan Law at 305-423-3800 for a free consultation with a Miami personal injury attorney. Our firm believes that clients should know their rights and how their case is progressing throughout the course of representation. We empathize with our clients' suffering and make sure they are treated with the utmost respect and care.
Resource:
miami.cbslocal.com/2019/09/30/new-florida-law-makes-it-illegal-to-hold-cell-phone-in-school-zone/
fox13news.com/news/florida-news/using-phone-in-school-construction-zones-can-cost-florida-drivers-starting-tuesday
wfla.com/news/hillsborough-county/new-hands-free-cell-phone-rule-for-schools-and-construction-zones-starts-tuesday/
https://www.smorganlaw.com/cell-phones-a-distraction-in-slip-and-falls-in-miami/