Common Injuries from Rear-End Crashes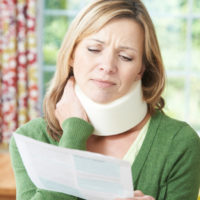 While some rear-end crashes are referred to as fender benders, there are plenty of cases where injuries from these types of crashes are severe. Some people feel the impacts of a rear crash for months or years after a crash happened. Recently, a person ended up in the hospital after a driver rear-ended a City of Miami Police cruiser in Northwest Miami-Dade.
Rear Crashes Can Cause Neck and Back Injuries
Whiplash happens when a head is forcefully moved forward and backward and forward again. This quick motion can cause a lot of pain, injuring ligaments, muscles and tendons. There can even be sprains to the soft tissue of the neck. Neck injuries such as whiplash are common in rear-end accidents and can result in loss of work and hours of physical therapy.
Connected to the neck, the back is often injured as well. Muscles in both the lower and upper back can be impacted and recovery can be slow. When physical therapy doesn't work, back surgery may be recommended. If the spinal tissue or spinal cord is impacted, there can be even more severe health problems, sometimes resulting in temporary or permanent paralysis.
Seat Belt Injuries
While wearing a seatbelt or a lap belt is important, they can lead to specific injuries if you are involved in a rear-end crash. These safety features are essential and save lives but they can cause bruises and lacerations when there is an impact. Some people even develop nerve issues after a car accident as a result of their seat belt injuries.
Concussions from Auto Accidents
If there is head trauma, medical professionals will watch for concussion symptoms, including blurred vision, dizziness, sensitivity to light, and headaches. While the long-term effects of concussions are rare, they can occur. If there was a brain injury there could be memory problems, sleep issues, and depression or other mental health issues.
Broken Bones from a Rear-End Collision
There are a multitude of ways bones can fracture when a car is impacted from the rear. If an airbag releases, the driver can have broken bones from that impact, including bones in the arms, hands, and face. The legs or knees of a passenger or driver can also be injured if there is dashboard impact.
The length of time it takes broken bones to heal depends on the injury. In some cases, they heal over time and only a handful of doctor's appointments are needed. But, if there are compound fractures, there can be surgeries and long recovery period. This can result in pain, suffering, and expensive medical bills.
If you or someone you love has been in a rear-end accident, contact a car accident lawyer. Because, whether you were the driver of the car that rear-ended another vehicle or you were the driver who was hit, you need to learn your rights.
Contact Spencer Morgan Law to discuss your personal injury case today. Our experienced Miami car accident attorneys can help you understand what your options are and how to move forward.
Resource:
wsvn.com/news/local/miami-dade/1-hospitalized-after-driver-rear-ends-miami-police-cruiser-in-nw-miami-dade/
https://www.smorganlaw.com/what-you-should-know-about-miami-t-bone-car-accidents/