Child Car Seats and Car Accidents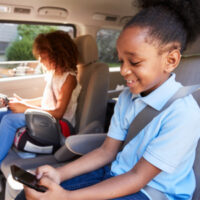 If your family was in a car accident, you may be wondering if you should be replacing car seats to boost safety. In most situations, it depends on if the accident was minor or not. The National Highway Traffic Safety Administration (NHTSA) used to advise replacing the seats in all instances, now they have different guidelines.
The health of your family is a top priority. If you or someone you love have been injured in a car accident, you need to talk to a Miami car accident lawyer to understand your rights. There is likely a possibility for compensation, both for damage to property and bills that have been incurred.
Who Will Pay for the New Car Seat?
Insurance companies will cover the bills for new booster seats or car seats. And the seats do not have to be the exact same make and model.
Seats that have been through a car accident are not eligible for donation, according to the rules of most charities. There may be a recycling program in your community, ask local charities or your local waste management organization for details.
When to Replace
If you have any concerns, simply replace the seats. Insurance will pay for the expense so it makes sense to promote your own peace of mind. That said, according to the NHTSA, individuals could keep seats if the crash was a minor collision.
All of the following need to be true in order for a crash to be minor:
Driving away from the accident site happened without issue.
Doors of the vehicle were not damaged, particularly the door near the child seat.
No one was injured in the vehicle.
No air bags were deployed.
Seat was assessed carefully and no damage was apparent.
If there was a tow truck called or you had any difficulty driving away from the site, the car seats and booster seats need to be replaced and new ones should be used moving forward. And vehicle door damage can also be a concern. If you happen to have a vehicle with three rows of seats, the nearest door is the door in the second row. Simply look at what door is closest to the child seat itself. When discussing air bags being deployed, that means any of them including side curtain airbags, inflatable seat airbags, knee airbags, and front airbags
When assessing the child car seat to see if there was any damage, look for cracks, webbing that is stretched, broken pieces, stitching that is loosened or broken, and any evidence of stress on the materials working together for child safety. Simply replacing the seat or booster may be your best bet for your family's safety.
Was your family in a car accident? If so, you need to talk to a knowledgeable personal injury lawyer to discuss your options. There may be compensation available for doctor bills, vehicle repairs, and lost wages. Our attorneys at Spencer Morgan Law will fight for fair compensation. Contact us today at 305-423-3800 to schedule your free consultation.
Resource:
nhtsa.gov/car-seats-and-booster-seats/car-seat-use-after-crash
https://www.smorganlaw.com/collecting-miami-witness-accounts-of-an-accident/