Car Accidents and Florida Intersections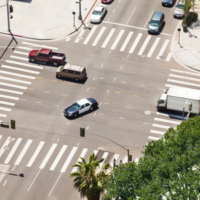 When two or more roads cross, it is commonly called an intersection. And intersections can be dangerous when a driver is driving recklessly or not paying attention. There are many head on collisions and sideswipe accidents within intersections. When accidents occur, there can be extensive vehicular damage and injuries.
Intersection crashes can involve multiple cars. In these situations, more than one individual can be negligent. This could be the case if two drivers believed they had the right-of-way at a four-way stop for example. Florida law follows comparative negligence. This means your settlement award could be reduced by a percentage if you are deemed partially at fault.
Personal injury law is complex. Working with an experienced personal injury lawyer means you will have a professional fighting for you who understands the details of Florida law. Discuss the details of your intersection accident with Miami personal injury lawyer to determine the best path to compensation.
Urban Environments are Prone to Intersection Crashes
In cities like Miami, there are often individuals rushing to get to their destinations. Plus, there are more cars on the road in urban environments. Sometimes aggressive driving, such as a driver speeding to catch a green light that is quickly changing to yellow, then red. Or drivers are distracted, looking at their phones or going through their bag on the passenger seat. Urban intersections are dangerous areas and it is important everyone is paying attention
Driver behaviors that have resulted in intersection crashes:
Cars following too close to other vehicles.
Turns and U-turns that are illegal.
Failure to follow traffic signals and signs.
Merging unexpectedly or in a manner that is not safe.
Ignoring traffic signs and signals.
Erratic changes in behavior.
In the aftermath of an accident, have your health assessed by a doctor to determine if there are any injuries that require treatment or are slow to show. Next, talk to a lawyer to discuss upcoming insurance claims or personal injury lawsuits.
Collecting Evidence and Determining Fault
When you connect with a Miami injury lawyer, legal professionals will begin the process of determining fault. This could be done by assessing documentation, such as witness accounts, police reports, and photos and videos.
If there is no documentation readily available, your attorney can explore other avenues. For instance, there may be surveillance video recorded at a nearby grocery store that captured the intersection crash. This footage could be obtained and used in a claim or case.
A skilled Florida lawyer knows what to do when an intersection accident happens. There are many financial and emotional burdens that occur when cars collide. In order to fully protect yourself and your rights, connect with a professional who understands insurance negotiations and personal injury law.
Did you sustain injuries in a Miami intersection collision? An experienced attorney can help. Talk to the Miami personal injury attorneys at Spencer Morgan Law. We have experience proving negligence, negotiating with insurance companies, and taking cases to trial if necessary. Contact us today at 305-423-3800 to schedule your free consultation.
https://www.smorganlaw.com/dangerous-drug-and-injury-victims/