Car Accident Fires and Burn Injuries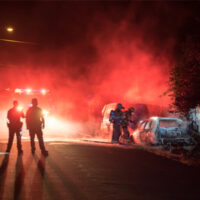 Vehicle fires are extremely dangerous. Fires happen due to collisions, mechanical malfunctions, and electrical failures. Vehicle maintenance can be helpful in preventing fires as the majority of car fires happen with older vehicles. In the United States, there are over 210,000 vehicle fires in 2018. These fires result in deaths, injuries and property damage.
After an accident involving fire, you need a Miami car accident lawyer on your side. Burns can be incredibly serious injuries that result in ongoing pain and disfigurement. When medical care will be needed over years, the healthcare expenses can be more than most Florida families can afford.
Burn Injuries as a Result of Florida Collisions
Car crashes can be traumatic events. The possibility of burn injuries is present when a vehicle ignites or hot fluids leak from cars or trucks. Fire moves fast and harm can be done before individuals involved even realize the danger.
Vehicle accident burns can happen from the following:
Gasoline that ignites and causes flame injuries
Scald burns from hot liquids or radiators
Contact with burning chemicals, such as antifreeze and steering fluid
Electrical burns from surfaces within a vehicle
Downed power poles creating dangers
Hot surfaces, such as exhaust pipes
While it is common for individuals to equate fire and burn risk with fuel tanks, the majority of vehicle fires are actually prompted by dangerous activity in the area of the car holding the engine. There are a variety of ways severe burns can happen when vehicular fires occur.
Accidents can result in muscle tears, fractures, traumatic brain injuries and burns. Burn injuries can be minor or severe, depending on the details of the crash. Serious burns can happen from hot liquids and chemicals. Disfigurement has even been reported. If you have large healthcare expenses due to crash burns, a Miami car accident lawyer can look over the facts of your case and determine if compensation is possible.
How Burn Injuries Are Treated
When burns are minor, they may heal with a low level of treatment. Always seek medical attention after a collision to be sure your injury is receiving the proper care. If the issue is not severe, it is possible your healthcare provider will cleanse the burn area, apply an ointment, and wrap the area to protect injury while it heals. Minor burns can heal within weeks.
But when burns are serious, medical interventions may be needed. This could include medications, surgery, and physical therapy. Your healthcare team will work to prevent infection, manage any pain experienced, and decrease scarring. When function is impaired, the team will work to restore movement as well. Because severe burns may require skin grafts, it is possible recovery times will extend for months or years.
Did you sustain burn injuries in a Florida car accident? You may be able to secure compensation for emotional distress and doctor bills. Talk to a Miami personal injury lawyer if you were involved in a car accident and are now unsure how to cope. If another was negligent, there are options for financial compensation.
https://www.smorganlaw.com/how-to-file-a-miami-personal-injury-claim/