Can I Be Compensated for a Miami Escalator Injury?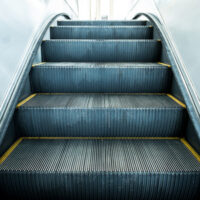 When it comes to escalators, safety is a major concern. Which makes sense, because there are around 35,000 escalators around the country. Daily, these moving staircases are helping individuals move up and down airports, shopping malls, and office buildings.
People are so used to getting on and off escalators without any issues that it can be easy to forget how dangerous these machines can be. If you were injured as a result of a malfunctioning escalator in Florida, reach out to discuss your situation with a Miami personal injury lawyer.
How Do Escalator Injuries Happen?
People are injured on escalators for a variety of reasons. There are situations when the injury is the result of the escalator rider being reckless. In those instances, compensation may not be possible because the victim themselves are liable. But there are also plenty of situations where an injury occurred and the rider did nothing wrong.
If an injury happens within a shopping mall, the property owner might be the at-fault party. Especially if escalator maintenance was ignored or there were other failures to make the mall safe for the public. But, if the injury happened because of a malfunction in the design of the escalator itself, liability could fall on the escalator manufacturer.
Some of the reasons escalator accidents can happen:
The machine abruptly stops and starts.
Improper installation, including loose or missing escalator parts.
Failing to schedule regular maintenance.
Sandals or shoes of riders get caught on parts of an escalator.
Am I Eligible for Compensation?
Accidents and injuries are extremely upsetting. When we go about our day-to-day lives, we are not expecting to end up injured with hospital bills. But, unfortunately, accidents do happen. Injuries from an escalator or other machines can result in medical bills and missed paychecks. If you have been injured in a shopping mall or another public place in Florida, a Miami personal injury lawyer can help.
When accidents happen, people are emotional and are understandably thinking of their own safety rather than a pending lawsuit. That said, if you can, collect documents about the event itself. For example, accident reports, police reports, and hospital bills are helpful if you decide to move forward toward compensation. An experienced lawyer can let you know what documents you might need to secure a successful outcome.
Photos and videos of the scene can also be beneficial as a liable party (either the property owner or the elevator manufacturer) could deny their company was at fault. Do not take their opinion as the end of the story. You have rights and an attorney can determine if compensation is a possibility. It is the responsibility of property owners and escalator manufacturers to ensure escalators in public places are safe.
If you have been injured in a shopping mall, airport, or another public place, the qualified attorneys at Spencer Morgan Law can help. While you focus on your recovery, our knowledgeable lawyers can secure compensation. Contact us today at 305-423-3800 to schedule your free consultation.
https://www.smorganlaw.com/what-is-premises-liability-for-vacation-rentals/