Bounce Houses Cause Kids Personal Injuries in Miami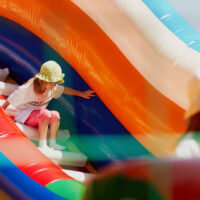 From birthday parties, carnivals, backyard barbecues to corporate events, bounce houses, moon walks and other types of inflatables are a primary source of entertainment for children. Bounce houses help to keep kids occupied and ensure they have an endless amount of fun. Unfortunately, severe personal injuries are on the rise due to the growing popularity of bounce houses. Studies suggest that 30 children are injured in a bounce house each day.
Because the attorneys at Spencer Morgan Law cares about the safety of Miami's children, as we approach Labor Day – the final holiday before the arrival of the fall season – here's some vital information you should know about bounce houses. This article will cover bounce house injuries, who is responsible for them, and ways to practice bounce house safety in Miami.
Bounce Houses Cause Injuries
A news release from the Consumer Product Safety Commission estimates there were more than 18,000 bounce house injuries in 2018. The injuries ranged from cuts, bruises, sprains, broken bones, head injuries and more. The most common injuries children receive due to bounce houses are arm and leg injuries. Some of the injuries send children to the emergency room and can also result in death.
Who is Responsible for Injuries from Bounce Houses?
Holding a party accountable for your child's injuries is not easy. Several parties or entities may be responsible including:
Bounce house renters
Owners of the bounce house business
Manufacturer of the bounce house
This is why it's important to get in touch with a Miami personal injury attorney as soon as possible after your child receives the injuries. The attorney will help you decide whether a personal injury claim or lawsuit is the best option.
If you plan on holding a party responsible for your child's injuries, be mindful of the statute of limitations. For a lawsuit based on negligence, the State of Florida requires plaintiffs to file lawsuits within 4 years of the incident. Otherwise, the court will not hear your case.
Ways to Practice Bounce House Safety in Miami
Ensure your child's safety with safety best practices. Although there are several ways to practice safety, the following are sure to get you on your way to safety:
Follow manufacturer instructions
Show children the proper ways to bounce
Do not use in bad weather or blowing winds
Additionally, inflatable bouncers article by the Child Prevention Alliance offers these injury prevention tips:
Only allow children 6 years of age or older to play in the bounce house
Allow one child at a time to jump in the bounce house
Make sure a trained adult is present
If multiple children are in bounce house, children should be the same age and weight
Call Spencer Morgan If Your Child is Injured in a Bounce House
If your child received injuries while jumping in a bounce house, contact the Miami personal injury attorneys at Spencer Morgan Law at 305-423-3800 for a free consultation. There's never any fees or costs if we don't recover your damages.
Resource:
cpsc.gov/Newsroom/News-Releases/2019/Dont-Get-Swept-Away-CPSC-Reminds-Consumers-to-Be-Grounded-in-Safety-When-Using-Bounce-Houses
https://www.smorganlaw.com/who-is-responsible-for-my-slip-and-fall-over-an-electric-scooter/