Boating Trips and Water Tubing Accidents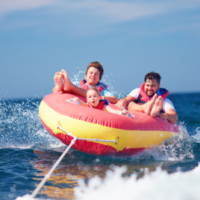 Florida boating is a popular activity for residents and tourists. And many choose to add another water activity to the day, such as wakeboarding or water tubing. While it can be fun to water tube, there are safety precautions to take and it is important to remember that accidents are possible.
After a boat crash or tubing accident, connect with a Miami boat accident lawyer. If another was liable, a personal injury claim or case may be a possibility. Then, a financial award can take care of bills that have gathered, such as doctor fees.
Tubing Excursions Require Preparation
While it is not possible to avoid all accidents when boating and tubing, there are things you can do that can help to keep yourself and those you care about safe. Some safe practices when tubing include the following.
Opt to wear safety gear, including life jackets and eye protection.
Do not wear loose clothing that could catch or snag.
Talk about hand signals so tubers can let the boat know if speed needs to be reduced or if a stop is necessary.
Establish a course for the tubing excursion, one that avoids hazards and obstacles.
Check equipment including ropes and tube itself, be sure that equipment is the right size for the individual who will be riding.
Never tube ride when under the influence.
Weather and storm risks need to be assessed, don't go out without checking the forecast.
It is also important to have an emergency plan in place. For example, if someone falls or there is an accident, having a stocked first aid kit can be extremely helpful. Also, you will want to have emergency phone numbers easily accessible if you need to call for help.
Seek Medical Assistance After an Injury
Accidents can happen, and if they do be sure to seek medical assistance right away. There can be serious personal injury as a result of Miami tubing accidents, including brain injuries, fractures, and concussions. Having injuries treated as soon as possible means an appropriate treatment plan can be developed for the individual without delay.
When you meet with a Miami boat accident lawyer they will make sure all of the documentation you need for a strong claim is gathered. This will include information about where the accident happened, who was the captain of the boat, and if there were storm risks or other hazards present.
Before you meet with an attorney, keep a record so a lawyer will have an accurate understanding of your healing process. For example, you could write down your diagnosis, when treatments took place, if work was missed, and the expenses incurred. This can be valuable evidence if you need to file a personal injury claim after a boat accident.
Were you injured when tubing in Miami? When an accident involving a personal watercraft results in injury, you need Miami boat accident lawyers on your side. A skilled attorney has the experience needed to navigate legal complexities. You deserve justice and we work on a contingency fee basis. Call Spencer Morgan Law at 305-423-3800 for a free consultation.
https://www.smorganlaw.com/psychological-concerns-after-a-florida-collision/