Psychological Concerns After a Florida Collision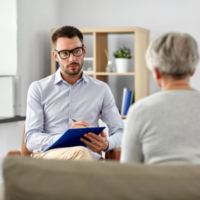 When you think of the damage done during a car accident, it is common to think of problems and expenses connected to physical injuries and property damage. While this can be true, this perception often ignores all of the mental health issues that are possible after a Florida collision. Many accident victims suffer from post-traumatic stress disorder (PTSD), depression, and anxiety in the aftermath of a traumatic accident.
If you were involved in a Florida car crash and are suffering from psychological issues as a result of your injuries, it is important to talk to a healthcare professional right away. Any counseling or medication you need could be part of your personal injury claim. A Miami car accident lawyer can help you obtain a full and fair financial compensation package. A claim can only be made if you have suffered a physical injury that caused your psychological trauma.
Acute Stress Disorder and Post-Traumatic Stress Disorder
If you have been having recurring thoughts, nightmares, or flashbacks about a car accident, you could be suffering from Acute Stress Disorder (ASD). ASD usually occurs in the weeks following a traumatic experience and can continue for days or weeks. Avoidance, anxiety, and distress can all be experienced.
When symptoms extend and are experienced for longer than a month, a person will likely be diagnosed with post-traumatic stress disorder (PTSD). There the possibility an individual suffering from PTSD will avoid the people who remind them of the accident, have troublesome thoughts, and extreme overall emotional distress. Connecting with a healthcare professional as soon as possible is important. Then, it can be determined if the issue is ASD or PTSD and a treatment plan for coping with emotional distress and anger management can be outlined.
Depression in Connection with Physical Injuries
Sometimes, individuals who sustain a physical injury find themselves suffering from depression. This can happen when the injury prevents them from living their daily life in the same way they did before the accident, for example. When depressed, people can feel one or more of the following symptoms.
Feelings of guilt or hopelessness
Mood swings and decreased interest in hobbies and activities
Loss of appetite or increase hunger
Lack of concentration and slowed movements
Inability to focus
Insomnia and fatigue
Irritability, agitation, and social isolation
Reaching out and seeking help is an important first step. Mental health care is available. If you are not sure where to start, talk to your primary care doctor for guidance.
Just as there are bills connected to physical injuries and damaged vehicles, there can be an expense to receiving quality mental health care. Any expenses connected to an accident can be part of a financial compensation settlement. When you connect with a Miami car accident lawyer, they will assess your situation and strategize a plan forward. If another entity or person was negligent, you should not have to shoulder all of the stress and expenses on your own.
Have you been receiving counseling bills because of the mental health support you've needed after a Miami car accident? Talk to the Miami personal injury attorneys at Spencer Morgan Law. Accident cases can be complex, a knowledgeable attorney is needed to navigate the complicated negotiations with insurance companies and legal professionals. Contact us today at 305-423-3800 to schedule your free consultation.
https://www.smorganlaw.com/will-i-receive-a-settlement-or-head-to-trial/