Bedsores Could Be a Sign of Nursing Home Neglect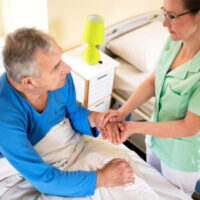 Bedsores are open skin wounds, they are also called decubitus ulcers, pressure ulcers, or pressure sores. They form when the weight of an individual's body presses a person's skin against a surface that is firm, such as a mattress or chair. The form because the pressure reduces the blood supply.
While bedsores are treatable, it is essential that residents of a nursing home are under the care of staff that tends to this issue immediately. Hospital and nursing home staff must take steps to prevent bedsores. If they do occur they need to be treated immediately.
If someone you love is suffering from bedsores in a nursing home, you need to speak with a Miami medical negligence attorney right away.
Techniques for Bedsore Prevention
Sometimes people who are elderly and have health issues are prone to bedsores because their mobility may be limited. It is not uncommon for someone with severe health issues to spend the majority of the day and night in one bed. But it could be a sign of medical negligence if there are not precautions in place to prevent bedsores.
Ways to reduce likelihood of bedsores:
Individual is moved regularly to reduce pressure to one area
Proper hydration and nutrition is supplied every day
Looking over areas that are prone to bedsores
If you have a family member who lives in a nursing home and has developed bedsores, it may be proof of negligence if the facility did not take the proper prevention steps. Once the problem is apparent, it is essential the health care team takes steps to heal the skin so the situation does not get worse. Talk to a Miami medical negligence attorney if you are concerned.
How to Look for Bedsores
Loved ones may visit someone in a nursing home and not know what to look for regarding bedsores. A good first step is to ask the person living in the facility if they have any pains. Bedsores often develop along the spine and on the heels, elbows, shoulders, and tailbone.
If you do discover an issue, ask the nursing staff about the condition. How long the person has been suffering and how the bedsores are being treated. You should receive full explanations each step of the way. You need to know how the issue is being handled because  infections can happen if bedsores go untreated. Sepsis can even occur, which can be fatal.
When an individual is a victim of nursing home or hospital negligence, they have a right to compensation. In some cases, victims are compensated for medical expenses. There may even be the possibility of being compensated for mental anguish, pain, and suffering.
Contact a Miami Medical Malpractice Lawyer Today
Has someone you love developed bedsores in a Miami nursing home? Or, has there been another medical issue you believe was caused by negligence? You need to talk to a lawyer you can trust as soon as possible. Our Miami medical malpractice lawyers provide no-cost, confidential consultations. Contact Spencer Morgan Law at 305-423-3800 to discuss your case.
https://www.smorganlaw.com/signs-you-might-be-a-medical-malpractice-victim/