Are Slip Injuries and Trip Injuries the Same?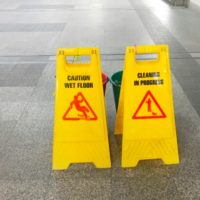 While there are multiple accidents related to falls, a slip injury is different than a fall injury. It is important to establish why an injury occurred and a Miami slip & fall lawyer can help you to determine why it happened. You may be eligible for compensation if the injury happened at a business or other commercial environment where a property owner has the responsibility of keeping the space safe.
When Is a Property Owner Responsible for a Slip Injury?
When someone slips because there is a spill on the floor, the property owner could be liable. The injuries often occur because there is a surface that causes one part of your body to move at a different speed than the other part of your body, causing an individual to slip and fall. Slips can cause severe injuries to an individual's neck, spine, back, and other parts of the body.
Causes of slips:
Surfaces that are wet, such as mopped floors
Uneven flooring, including carpeting that is ripped
Parking lot pavement that is full of cracks and holes
Broken sidewalks
Debris cluttering floors or walkways
When a personal injury lawsuit against a property owner moves forward after a slip and fall injury, it must be proven that the property owner knew of the hazard. For instance, if a surface is slippery because of a recent spill, the property owner might not have known the risk was there. But, if the property owner spilled a bucket of mop water and left the area for a period of time, it could be proven they had adequate time to react and clean it up properly, preventing injury.
How Is a Trip Injury Different?
When someone trips, one part of their body stops, typically a foot, and the person's body continues to move forward. While the causes of trip injuries can be the same things that cause slip injuries, the injuries are often different. Sometimes people break bones, twist ankles, and there can be tears to ligaments and muscles.
There can be a lot of expenses involved with injuries from falls. Sometimes those injuries are lifelong. If you or someone you love was injured as the result of slip or a trip it is essential you talk to Miami slip & fall lawyer today to understand your rights.
Risks of trip hazards are often related to uneven walking areas. This could be indoors or outdoors. But wherever the hazard is, it is the responsibility of the property owner to keep the property safe. If it is possible to prove the property owner knew about the hazard, or that they should have known had they been a responsible business owner, they are liable for your slip or trip and fall injuries.
If you were injured when you slipped, tripped, or fell in Miami, you need an experienced personal jury lawyer you can trust. Contact Spencer Morgan Law at 305-423-3800 to discuss your case. Together, we can set up a no-cost, confidential consultation regarding your claim for compensation.
https://www.smorganlaw.com/can-i-be-compensated-for-a-miami-escalator-injury/