All-Terrain Vehicle Accidents In Florida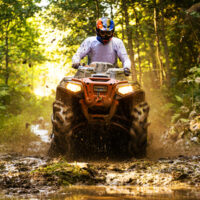 All-terrain vehicles, sometimes also called ATVs, four wheelers, or quads are used on Florida beaches and trails. While they are recreational vehicles, they are also used by some Florida farmers and ranchers. Even though many ride ATVs for fun, all-terrain vehicle accidents can result in fatalities or serious harm.
An ATV in Florida is defined as an off-highway vehicle of a certain size. It has three or more tires and is designed for one operator. Two-rider ATVs are different, they are designed for both an operator and a passenger and therefore can legally have two riders. Learn more about the legalities of ATVs, reach out to a Miami personal injury lawyer. After an accident, compensation is possible with an experienced attorney by your side.
Florida Laws and ATVs
There are rules in Florida when driving an ATV. For instance, they are not allowed on public roads or streets. There is an exception, that is when an ATV is used during the day on a public road that is unpaved. The road has to have a posted speed limit of 35 m.p.h. or less.
Age is also a consideration. The driver of an ATV who is under 16 years old must be supervised according to Florida law. Youth drivers have to wear appropriate protection as well, including safety helmets, eye protection, and more. Everyone who owns or operates an ATV needs to be aware of all the rules associated with the vehicles.
Liability and Negligence After an Accident
When there is an all-terrain vehicle accident resulting in injuries, negligence and liability could be discussed. An attorney can be helpful as the answer is not always clear. Sometimes an ATV owner is liable. Or maybe there was negligence on the part of the property owner. Every angle needs to be considered and reviewed.
Some of the reasons why four wheeler accidents happen include the following:
The vehicle was not maintained properly.
Design or production defects and failures.
The operator of the vehicle was reckless.
Alcohol or drugs were involved.
Property or trails were not kept up.
Always Keep the Vehicle Maintained
Protection and maintenance can help in avoiding ATV accidents. Deaths and traumatic brain injuries are less likely when operators wear helmets each and every time they are on the vehicles, for instance. Also, check safety features and make sure taillights and headlights are in working order.
Whether an operator was negligent, there was liability on the part of the property owner, or a vehicle had defective parts, a Miami injury lawyer can help individuals involved in an ATV accident. An attorney is able to uncover all the damages and secure compensation.
When an injury involves seeking medical attention, be sure to let law enforcement know about the accident. Documentation each step of the way is important in the event of a personal injury claim or lawsuit.
After an ATV accident, call Spencer Morgan Law at 305-423-3800 to discuss your claim. Then, we can set up a no-cost, confidential consultation and move toward compensation.
https://www.smorganlaw.com/electric-scooter-accidents-in-florida/