Electric Scooter Accidents In Florida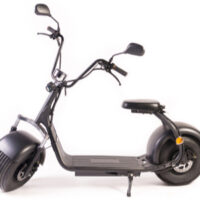 On beautiful sunny days, you have likely seen electric scooters on the streets and sidewalks. While many enjoy this form of transportation, they can be dangerous.
If you have sustained injuries in an electric scooter accident, contact a Miami electric scooter accident lawyer to help you pursue a claim for your damages.
What Type of Injury Risks Exist with Electric Scooters?
While electric scooter rental companies promote scooters as a safe mode of transportation, people do become injured.
Possible reasons why an electric scooter ride could result in an accident:
Drivers that are impaired or distracted.
Reckless or speeding behaviors from drivers.
When individuals fail to yield.
Broken sidewalks, pavement, or other obstacles.
After an accident occurs, there will be the process of determining liability. A legal team can help with this process. They can assess damages, investigate details, and gather documentation. In some cases the determination will be a driver was negligent. In other instances, a property owner could be responsible and a premises liability claim could follow. If there was a broken sidewalk, for example. Sometimes there is even the possibility of a claim against a rental scooter company.
There are many different types of scooter-related injuries including bone breaks, concussions, dislocations, sprains, abrasions, and more. After an injury, seek medical attention right away. Trained medical staff can assess your injuries and determine what type of care you need.
How Much Compensation Will I Likely Be Awarded?
There are many factors that come into determining the value of a claim. But, overall, if you are injured in an electric scooter accident you are likely entitled to a financial amount that would cover your medical care, lost benefits and wages at work, damage to personal property, and pain and suffering.
When further treatment is required, there are even avenues to pursue compensation for future expenses including the cost of upcoming hospital fees, projected lost income moving forward, and any permanent harm that resulted due to the accident.
It is important to act quickly, do not delay if you want to secure compensation. A Miami electric scooter accident lawyer can walk you through the process.
Do not talk details or settlement amounts with an insurance company or with the electric scooter company. Instead, let a lawyer do the negotiating for you as they understand the intricacy of electric scooter claims and what settlement amount is appropriate.
A lawyer is able to handle the details of a case while an accident victim can focus on healing. Your legal advocate will go after the maximum settlement amount, whether that means negotiating with an insurance company or pursuing justice in a court of law.
Were you injured in an electric scooter accident? Talk to a knowledgeable personal injury lawyer to discuss your path to compensation. There may be compensation available for medical bills, lost wages, and pain and suffering. The Miami personal injury attorneys at Spencer Morgan Law will fight for fair compensation. Contact us today at 305-423-3800 to schedule your free consultation.
https://www.smorganlaw.com/miami-bicycle-accidents-cause-injuries/