Why Motorcycle Tricks Are Dangerous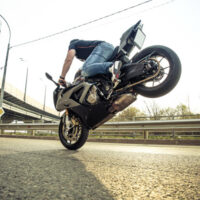 Many in and around Miami find motorcycles to be an exhilarating and efficient mode of transportation, and while there are many riders who travel responsibly and take motorcycle safety seriously, there are others who engage in motorcycle tricks, dangerous behavior that poses significant risks to both the rider and others.
After a motorcycle accident, there are people to help you through the recovery process, talk to a Miami personal injury attorney about your compensation options.
Understanding Motorcycle Tricks and Their Dangers
Because Miami has incredible views and coastal roads, it is a hotspot for motorcycle enthusiasts. Two-wheeled machines have become a popular choice for individuals who live and work in Florida, for both commuting and recreational purposes. Of this large group of riders, there is a subset of motorcycle operators who participate in high-risk tricks, riders who show off with wheelies, stoppies, burnouts, and other stunts.
Because this trick involves lifting the front wheel off the ground, the balance and stability of the bike is at risk.
When a rider stops their motorcycle on its front wheel, there is the possibility of abrupt forward momentum and potential flips.
Spinning motorcycle wheels while keeping the frame of the bike stationary is damaging to tires, which can reduce bike traction, causing collisions and unexpected skidding.
Motorcycle tricks are dangerous because they can lead to loss of control, resulting in collisions, severe harm, and accident injuries. Should a motorcyclist sustain an injury, seeking medical care immediately is essential, but how that care will be covered will depend on the specifics of the situation.
In the state of Florida, personal injury protection (PIP) coverage is mandatory for vehicles, but the compensation provided does not extend to motorcycle accidents. Instead, Miami motorcycle riders have to turn to other damage recovery avenues.
Pursuing Financial Recovery After a Motorcycle Injury
Before making a final decision about how your motorcycle accident injury expenses will be handled, speak to a seasoned attorney who has worked on similar cases and can inform you of your options. Once a lawyer assesses your case, they can begin the process of investigating the circumstances surrounding the accident and guiding you through the legal process. Seasoned lawyers know how to identify liable parties, and if there are drivers or other parties that can be held responsible, there may be a way to obtain financial recovery from a reckless party's insurance policy.
In addition to pursuing compensation from at-fault parties, motorcyclists may be able to obtain recovery through uninsured/underinsured motorist coverage. Or, if an accident was caused by a defective motorcycle part, a product liability claim may be an option. There may be a recovery path you never considered, speak to a Miami personal injury attorney to learn more.
Do you believe a motorcycle trick is responsible for your accident injury? While motorcycles can be a thrilling transportation option, reckless behaviors can lead to injuries and personal injury disputes. To have your individual situation analyzed, connect with the skilled lawyers at Spencer Morgan Law. Call 305-423-3800 now for a no-cost, confidential assessment.