Who is Liable When a Student Driver Gets in an Accident?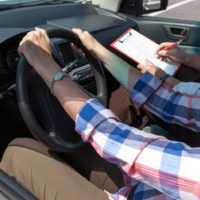 Student driver car accidents are rare, but when they do occur, they can be tricky to handle. If you were in a car accident involving a student driver and are seeking damages, you may run into special liability issues. Do you sue the driver, the instructor, or the parent? Or are you yourself at fault? At Spencer Morgan Law, our Miami car accident attorneys are familiar with Florida's intricate liability laws and are prepared to help you obtain compensation from the correct party.
Types of Student Driver Accidents 
First and foremost, it is important to establish the nature of the accident. Some common accidents involving student drivers include:
Accidents that result in injuries to other passengers in their vehicle: In most student driver accidents, the person that typically ends up the most injured is the instructor and other students, if there are any.
Accidents that result in injuries to cyclists or pedestrians: Many student drivers fail to pay attention to anything that is not directly on the road, such as cyclists or pedestrians. A student driver may turn at the exact moment a pedestrian chooses to cross a crosswalk, or they may switch lanes directly into a biker.
Accidents that result in injuries to the drivers and passengers of other vehicles: Because student driver cars are marked, most other drivers are extremely cautious around them and give them a wide berth. However, every once in a while, a student driver will turn abruptly, run a red light, fail to engage their brake, or perform any other number of common new-driver mistakes. They then run into another vehicle, thereby injuring the driver and/or passengers.
The type of accident you were involved in will dictate how you proceed with your case.
When Student Drivers Are Liable 
Though student drivers are not fully aware of all of the rules of the road, they must be somewhat aware if they have their permit and are behind the wheel. If a driver runs a stop sign, fails to yield to a pedestrian, speeds, or performs any blatantly illegal maneuver, they may be held liable for damages caused in an accident. However, if you are the injured party, you must provide evidence supporting your claim, including witness testimony, police reports, and photographs of the scene of the accident.
When Driving Instructors Are Liable
In some instances, a driving instructor may be held liable. The driving instructor's job is to provide instruction to the learning students, and to take reasonable care to prevent accidents. If an instructor fails to intervene when a student makes an obvious mistake, they could be held liable for injuries and damages. Some examples of a situation in which an instructor can be held liable is if it is determined that the instructor was texting, reading, or otherwise distracted when the incident occurred.
When the Driving School is Liable 
The driving school may be held accountable for a student driver accident as well. For instance, if the school knowingly hired an unqualified instructor or allowed an instructor continued employment despite previous shady conduct, they could be held accountable for the accident and additional legal liabilities. Additionally, allowing a student to drive a poorly maintained car—such as one with faulty brakes, bald tires, or issues with stalling—could also result in the school being held liable.
When You Are Liable 
Florida is a comparative fault state, meaning that the judge will look at your contribution to the accident, if there is any. Because drivers' education vehicles are required to warn other drivers that a student driver is on the road, it is your responsibility to remain vigilant when around them. If you perform a risky maneuver, such as cutting in front of them without using your blinker or coming to a sudden stop in front of them, the judge may find you partially responsible for your own accident. If this is the case, they will determine how much fault you are responsible for and reduce your damages accordingly. For instance, if they find you 30 percent responsible, they will reduce your damages by 30 percent.
Let a Miami Car Accident Attorney Protect Your Rights 
If you were injured in a car accident caused by a student driver, your case may be complex, but with a knowledgeable Miami car accident lawyer on your side, you can obtain the compensation you need to fully recover from your injuries. To speak with a member of our team at Spencer Morgan Law today, schedule your free consultation by calling 305-423-3800 today.
Resource:
leg.state.fl.us/STATUTES/index.cfm?App_mode=Display_Statute&Search_String=&URL=0700-0799/0768/Sections/0768.81.html