Who Is at Fault in a Parking Lot Accident?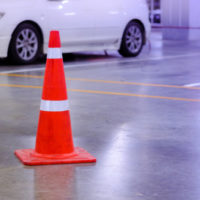 With the holidays officially upon us and shopping season well underway, we feel like now is as good a time as any to address a common driving peril: dangerous parking lots. According to the National Safety Council, more than 50,000 crashes occur in parking lots each year, causing more than 60,000 injuries and over 500 deaths, on average. The Council even agrees that during the holidays, the incident rates increase, along with injury and death rates.
Though speeds in parking lots are relatively slow (at least, cars should drive slowly), parking accident injuries can be severe, especially when pedestrians are involved. If you or a loved one was injured in a parking lot accident in Miami, our Miami car accident lawyers at Spencer Morgan Law are prepared to fight on your behalf for the compensation you need to recover in comfort. The first thing we will do if and when we accept your case is try and determine liability.
Possible Liable Parties
 When it comes to parking lot accidents, there are four different parties who can be held liable. Those include the following:
The other driver;
You;
The owner of the property; and/or
The maker of the vehicle.
You may have noticed that we put "and/or." That is because sometimes parties can share liability for an accident. For instance, if a driver was speeding near an entrance which had no stop sign, both the speeding driver and the property owner may be held liable—the driver for breaking the law and the property owner for failing to put a stop sign where a stop sign is necessary.
When You or the Other Driver May Be at Fault
 If liability is between you and the other driver, our team will investigate the circumstances surrounding and leading up to the accident to determine liability. Some things we will look for include the following:
Failure of one party to stop at a stop sign;
One party's failure to drive without legally required vision aids;
Whether one party backed out and hit the other's vehicle;
Whether one or both parties is guilty of distracted driving (texting, eating, putting on makeup, etc.);
Failure for one party to turn on his or her headlights when driving at night or in adverse weather conditions; and
Whether one party was under the influence of drugs or alcohol.
If one driver was doing one or more of these, there is a good chance that that driver will be held liable for damages—at least, most of the damages. However, if you were guilty of any of the above indiscretions, you may share fault and therefore have your damages reduced per Florida's contributory negligence laws.
When the Property Owner May Be at Fault
Property owners, especially commercial property owners, have a duty to keep visitors safe. This duty extends to the parking lot. If a property owner breaches that duty, he or she may be liable for ensuing damages. Some ways in which a property owner may breach his or her duty include the following:
The parking lot is poorly maintained;
The lines in the parking lot are extremely faded;
Stop signs are not placed in the correct places;
Driving routes are not clearly marked;
There are no posted speed limit signs;
The parking lot is not secured from intruders; and
The parking lot does not have any security cameras.
If any of the above factors contributed to your accident, the property owner may be financially responsible. However, the courts may hold you partially accountable if you were driving in an area clearly designated as off-limits, or if you were driving recklessly through the parking lot.
When the Vehicle Manufacturer May Be at Fault
 In some parking lot accident cases, a vehicle's failure contributes or outright causes the accident. Some reasons for which the maker might be financially responsible include the following:
The brakes failed;
The power steering failed;
There was a problem with the tires; or
There was another issue with the vehicle.
Contact a Miami Car Accident Lawyer
It is not uncommon for multiple parties to be held liable in Florida parking lot accidents. The key in your case is to prove that you were less liable than the other party. Our Miami car accident attorneys at Spencer Morgan Law will investigate the accident in depth and do everything possible to ensure that one or several other parties share the responsibility, and that you do not share minimal, if any, liability. For the legal assistance you need, contact our law firm today.
Resource:
nsc.org/road-safety/safety-topics/distracted-driving/parking-lot-safety