Where Do Slip and Fall Accidents Happen?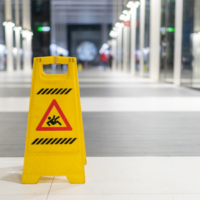 People can be injured in a slip and fall event at any time. It is a scary reality that these are unpredictable events and anyone can fall and hurt themselves anywhere they happen to be. But, there are things individuals can do to reduce risks. For this reason, it is the responsibility of property owners and managers to let visitors of a public space know of risks and dangers.
There are locations where slip and fall accidents occur frequently. If you were injured in a Miami slip and fall event, the path to a full and fair financial settlement can be complicated. Connect with a Miami injury lawyer. Together, you and your lawyer can strategize the best path forward.
Slips and Falls in Common Public Spaces
When you head to the grocery store or meet friends at a restaurant for a relaxing meal, you are likely not thinking there could be physical dangers. But, unfortunately, there are a variety of places where individuals do sustain slip and fall injuries.
Grocery stores. Individuals are injured in Miami supermarkets when there are wet floors, spilled liquids, fallen displays, and broken carts.
There are risks in restaurants and bars due to spilled drinks, wet bathroom floors, torn carpeting, and inadequate parking lot lighting.
Fitness centers. Injuries have happened when floors are slippery, equipment is faulty, tripping hazards are in place, or flooring is chipped.
When shopping centers have machines in place to move people from floor to floor, escalators and elevators, injuries are possible when there are slick areas or mechanical failures.
The property owner needs to be sure all danger areas are addressed immediately. And if it is not possible to fix the risk, to make the danger clear to visitors with appropriate signage.
Accidents Can Happen Where You Live
While your home is a private space, you are surrounded by public areas all the time. This may be true of areas you call your home if you live in an apartment complex, for example.
Apartments and condominiums. Condos and apartment complexes need to be safely maintained.
If you're in a shared building and there is an accident that results in injury because a sidewalk or driveway was chipped or broken, the management may be held responsible.
Swimming pools. To safely swim at home pools, slippery surfaces such as pool decks need to be looked after.
Also, while a workplace can be a home away from home, there is the possibility of injuries at work. Workplace injuries are common and the third leading cause of a work injury in America is slipping or falling.
Hazards need to be managed, whether they are in shopping malls or condo hallways. Because property managers have a responsibility to do so, negligence can be proven when an injury happens. Talk to a Miami injury lawyer to learn more
Did improper maintenance of a public building or space lead to your injury? An experienced attorney can help. Talk to the Miami personal injury attorneys at Spencer Morgan Law. We have experience proving negligence, negotiating with insurance companies, and taking cases to trial. Contact us today at 305-423-3800 to schedule your free consultation.
https://www.smorganlaw.com/security-for-miami-car-accident-victims/