When to Sue for Your Miami Motorcycle Accident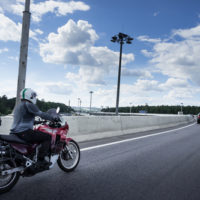 From the beach views, sunshine, and warm temperatures, Miami is a prime location for riding a motorcycle. Just take a ride from Miami to Key West and you'll see why. While riding a motorcycle can be a fun activity, it's also a dangerous one, often resulting in motorcycle accidents.
If you are involved in an accident because of a driver's negligence while riding your motorcycle in Miami, you have the right to sue the person or company responsible for the motorcycle accident. It's recommended that you contact a Miami personal injury attorney focusing on motorcycle accidents immediately to discuss your options. Below are some ways for you to know when you should sue:
Motorcycle accidents can cause serious injuries from scrapes and burns to traumatic brain injuries (TBI). If your injuries are a direct result of the accident, you can seek compensation from the party at fault for the accident.
If your motorcycle accident was caused by a mechanical issue such as a defect or poor design, you may be able to pursue a product liability claim against the manufacturer.
The driver violated the rules of the road.
If the driver violated Florida's Uniform Traffic Control laws by exhibiting risky driving behaviors such as speeding, swerving in and out of lanes, tailgating, or running red lights, the driver will receive a citation from law enforcement. This is a great indicator of a reason to pursue a personal injury lawsuit.
The driver was under the influence of drugs or alcohol.
This is a no-brainer. If the driver was driving under the influence of drugs or alcohol, and their negligence caused your injuries, you have a right to seek compensation from the wrongdoer for the injuries he or she caused.
How do I Pursue My Motorcycle Accident Case?
Be sure to report your motorcycle accident. Florida Statute Section 316.065 requires all accidents to be reported. Report the accident online or by mail through the Florida Highway Safety and Motor Vehicles.
Next, gather any evidence such as written documentation, medical records, the police report, photos, recordings and insurance information. Then, hire a qualified Miami personal injury lawyer and allow the attorney to review this information.
The attorney can work with you to pursue justice and hold the responsible party accountable for the damage they caused due to their negligence.
What Can I Sue For?
When a driver's negligence causes your injuries, you can recover compensation, including, but not limited to, the following:
Medical bills and expenses associated with the accident
Lost wages from missed time at work
Property damage
Future loss of earning capacity
If you were injured in a motorcycle accident in Miami, Call Spencer Morgan Law.
If you received injuries from a driver's negligence while riding your motorcycle, contact the Miami personal injury attorneys at Spencer Morgan Law, at 305-423-3800 to discuss your motorcycle accident case. We work on a contingency fee basis, meaning there's no fees or costs if we can't recover compensation on your behalf.
Resource:
flhsmv.gov/traffic-crash-reports/