What to Do if You've Been in a Car Accident in Florida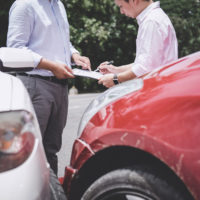 Anyone who's been in a car accident understands that they can be extremely frightening.  Unfortunately, car accidents are all too common in Florida. The Florida Department of Highway Safety and Motor Vehicles reported that in 2016, there were 395,813 car accident collisions. In 2,936 cases, at least one fatality occurred because of the crash.
In addition to the fatalities, car accidents can cause debilitating injuries that affect someone's ability to work and enjoy a pain-free life. With the prevalence of car accidents, it's important to know what to do if you've been in a car accident in Florida.
What Should I do If I'm in a Car Accident?
The Florida Department of Highway Safety and Motor Vehicles recommends that if you've been in a motor vehicle accident and you are coherent and able to do so, be sure to report the accident to law enforcement. This ensures that a law enforcement officer can complete the appropriate forms. The department notes that if someone tries to negotiate payment or a settlement on their own without a law enforcement report, it could be hard to prove what actually happened later as there will be no official report on record.
When the police officer is filling out the report make sure the report includes the complete insurance information of all parties involved in the car accident. Report the information to your own insurance company as well.
Should I Work Out a Deal with the Driver of the Other Car?
No, it is best not to engage with the other driver involved in your car accident. Importantly, never confront the person who caused the car accident on your own. This person may be violent and lash out. If hired, an attorney will act as your representative and handle all discussions with the party who injured you in the accident. A skilled attorney will work to ensure that you're awarded the most compensation possible for any injuries sustained from the car accident.
What Monetary Damages Can Someone Who is Injured in a Car Accident Recover? 
Lawsuits dealing with people injured in car accidents fall under the area of tort law also known as personal injury law.  In Florida, victims of the negligent or reckless driving of another person can recover specific damages for injuries they've incurred as a result of the accident.  Specific damages include medical costs, physical therapy, home health care, and medical prescription costs.
General damages for pain and suffering and loss of consortium may be available as well.  If the defendant's conduct was malicious or reckless, the court may award punitive damages as a way to punish the negligent driver's behavior and deter other people from engaging in that kind of behavior.
If you are involved in an auto injury in which one person has a bodily injury as a result, it is advantageous to hire an experienced personal injury attorney to help guide you through the process. Have you been in a car accident in Florida? Contact the Miami car accident attorneys at Spencer Morgan Law today for assistance with your case.
https://www.smorganlaw.com/why-wrong-way-accidents-occur-and-what-to-do-if-you-are-involved-in-one/