What to Do if You Suffered a Minor Injury in a Miami Car Accident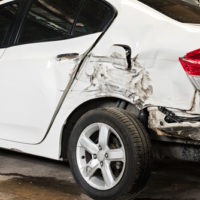 If you've been in a car accident and suffered minor injuries, you may be wondering if you even need to seek out the assistance of an attorney. We suggest that you consult with an experienced Miami car accident attorney as soon as possible after your accident.
Even if your injuries seem minor, you could still benefit from an attorney who will make sure that insurance companies give you a fair amount of compensation. Our attorneys also use our wide network of medical experts to evaluate you for an accurate assessment of the monetary costs associated with your injury.
Minor Car Accidents Can Cause Major Back Injuries 
Some neck or back injuries resulting from car accidents may seem minor but end up causing lifelong discomfort, pain or loss of mobility. Many of our clients only think that they suffered a sore neck after a car accident only to discover severe pain shooting down their legs, neck or back a few days later.
The human spine is delicate and each part of your spine needs to operate well in order to have complete back health. If the particularly delicate nerves or soft tissues are damaged, even minor inflammation or swelling can cause serious back discomfort and pain. Even a mild accident can cause your neck to whiplash back and forth, which can cause headaches, shoulder pain and other symptoms that may take weeks or years to recover. Unfortunately, some car accident victims don't recover and must live with daily pain.
What Do I Need to Prove to Recover for My Car Accident Injuries? 
In order to succeed in a car accident lawsuit in Florida, you must prove that the other driver's negligent or reckless behavior caused the accident that caused your injury. At Spencer Morgan Law, our attorneys use extensive investigation techniques to discover what happened in your car accident. We use that information to demonstrate that the other driver's negligence caused the accident.
Florida is a pure comparative negligence state, meaning that if you bring a lawsuit, you can only recover the percentage amount that you were not at fault. If the jury awards you a $100,00 award and finds that you were 30% at fault, you will only take home $30,000 of that award. Hiring an experienced Miami personal injury attorney is particularly important in Florida so you can prove that the person who caused your car accident was at fault.
Let Us Help You With Your Pedestrian Accident Case Today 
If you or a loved one experienced an injury resulting from a car accident, no matter how severe the injury, it is advantageous to hire an experienced personal injury attorney to help guide you through the process of seeking compensation. In Florida, car accident victims typically have four years from the date of the accident to file a claim. Don't delay recovering the monetary damages to which you may be entitled. Contact the Miami car accident attorneys at Spencer Morgan Law today for assistance with your case.