What Is The Difference Between Compensatory Damages And Punitive Damages?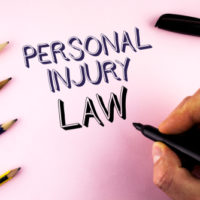 If you were injured in an accident caused by someone's else's negligence, you may be entitled to compensation for your damages. In order to collect those damages, you will have to file a personal injury claim. Compensation is not automatic once you do this. Rather, the defendant's insurance company will review your claim and determine what type, if any, damages to which you are entitled. There are two types of damages you may recover as a plaintiff: compensatory damages and punitive damages.
What Are Compensatory Damages?
Compensatory damages are designed to compensate you for your injuries and damages sustained. For instance, if you were involved in a car accident that wrecked your vehicle, broke your collarbone, and led to you being unable to work for six weeks while you recovered, you would be compensated for your property damages, medical expenses, and lost wages. In short, compensatory damages are calculated by totaling the total cost of the accident.
What Are Punitive Damages?
Whereas the compensatory damages are meant to compensate the victim, punitive damages are awarded as a means of punishing the defendant. These types of damages are meant to deter the defendant from acting in the same reckless manner that led to the accident in the first place. These types of damages are awarded when the courts decide that compensatory damages are not enough to fully compensate the plaintiff for his or her physical damages and pain and suffering.
What is the Main Difference Between the Two?
 The main difference between these two types of damages is that they are directed toward different parties of a civil claim. Compensatory damages are awarded to benefit the plaintiff and to help him or her cover the costs of an accident and/or injury. Punitive damages are awarded to punish the defendant. Though punitive damages can be awarded in any type of personal injury case, they are most often awarded in instances in which the defendant was grossly negligent. Some common examples of when punitive damages are awarded include the following:
Drunk driving cases;
Product liability cases;
Distracted driving cases;
Nursing home abuse cases; and
Medical malpractice cases.
What Can You Do When You Have Been Injured by Another Person's Negligence?
If you were injured in an accident caused by another person's negligence, the best thing you can do is to contact a Miami personal injury lawyer. At Spencer Morgan Law, our attorneys are familiar with the intricacies of the law and can accurately assess the value of your claim. If you believe that you are entitled to punitive damages as well as to compensatory damages, we can build a case that shows how the defendant was grossly negligent and why you deserve to be compensated for more than just your physical injuries.
The legal process can be confusing, to say the least, which is why you should never attempt to settle your personal injury claim on your own. For the advice and guidance, you need to recover a fair settlement, contact Spencer Morgan Law today to schedule your free consultation.