What If Someone Else Was Driving My Car?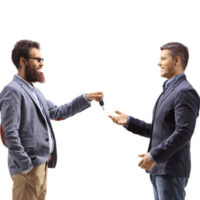 When your car is in an accident, it is possible you or your insurance policy will be responsible for paying accident expenses, even if someone else was driving the vehicle at the time of the accident. This is because even though it is common for people in South Florida and around the country to loan their cars, trucks, and other vehicles to friends and family members, the person who owns the vehicle still carries responsibility for the vehicle.
One way that the owner of a vehicle could be held liable is through citing the dangerous instrument rule. Essentially, this means that vehicle owners have a responsibility to only allow drivers to operate their vehicles if they are able to safely do so. If this doctrine is part of an argument that you should be paying another's bills, even when you weren't behind the wheel, the other party is saying you remain responsible for the decision made when you loaned your vehicle to someone who was reckless. To talk through the details of your situation and determine an optimal path forward, reach out to a Miami personal injury lawyer.
Review Your Insurance Policy Coverage
Often compensation for car accident damages will come from the car accident policy held by the owner of the vehicle. Typically, under insurance laws in the state of Florida, a policy will pay damages for you, other drivers, all passengers, and family members. Also, there is often language in policies to cover the expenses of bicyclists and pedestrians involved in an accident.
There are situations in which a car accident dispute will head to court, but it only happens in Florida in certain circumstances. Typically, the court process begins if someone sustained a major injury and moves to file a lawsuit against the negligent driver.
Talk to a Lawyer If You Were the One that Borrowed the Car
If you borrowed someone's car and were involved in a collision, the vehicle owner's insurance policy would likely cover accident expenses. But if there were severe injuries, it is possible the injured party will take legal action against you personally.
After a South Florida accident, discussing the details of your situation with a Miami personal injury lawyer is advised. You want to secure the damages you are entitled to and protect yourself from loss. This is true whether you borrowed a car and crashed it or you opted to lend your vehicle to a friend or family member only to later learn they were involved in a collision. Insurance policies and liability will need to be reviewed, connected with a legal professional.
Can I really be liable if I loaned my car to someone and they were involved in a Florida collision? Each situation is unique and needs to be reviewed by a professional. When you have questions about how to secure compensation for yourself or how to avoid being taken to court for another person's expenses, connect with the legal team at Spencer Morgan Law. For a no-cost, confidential assessment, call 305-423-3800.