What If I'm Offered Cash At An Accident Site?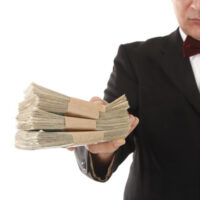 Not reporting an accident and accepting cash at the scene of an accident may seem like an easy solution at the time, but it can lead to more problems and expenses later. People don't want to report accidents for a range of reasons. Sometimes an individual is worried about their insurance premiums increasing if the accident is reported while others are concerned about criminal punishment because they violated a traffic law.
Many people who accept cash in the immediate aftermath of a collision end up contacting a Miami personal injury lawyer later, because the arrangement they believed they were agreeing to did not come to fruition or the expenses of their accident ended up being far higher than they anticipated.
High Costs Are Possible
Even when you and other drivers involved in a Florida crash are pretty sure they feel okay and don't notice substantial property damages, there may be high fees ahead you are not aware of. Assuming a traffic accident has only resulted in minor damages is not in your best interests. You need to know the facts before agreeing to any resolution.
For instance, you may assume dents and scratches to your vehicle will only cost a couple of hundred to repair. But many deep scratches can lead to thousands in auto body fees. If there has been damage to the frame of the vehicle, costs can rise higher.
And your health may not be where you believed it was when you were experiencing an adrenaline surge in the moments following a crash. Days, weeks, or months later, you may find yourself facing a medical diagnosis in connection with your accident, from strained muscles to broken bones.
Accessing Florida No-Fault Benefits
All Florida drivers are required to have personal injury protection benefits, commonly referred to as PIP. These no-fault benefits will provide you with damage compensation, up to a certain amount, no matter who was responsible for the collision. But to access these benefits, your accident will need to be reported.
If you agree to accept a cash payment at the accident site and do not report the collision, you could be losing your no-fault benefits, should you need them later. Your overall health needs to be protected, and you may need your PIP benefits to cope with medical expenses after a traffic accident.
Accepting cash money without thinking of the long-term consequences is a big mistake. Before agreeing to any terms, suggested by an individual or an insurance adjuster, talk to a Miami personal injury lawyer.
Were you offered a stack of cash at an accident site but believe you should talk to an attorney? In many situations, hundreds of dollars will not be enough to handle all of your accident expenses. Talk through your car repair costs, medical fees, and how to discuss your situation with the legal team at Spencer Morgan Law. Our lawyers are committed to providing you with top quality representation. Reach out today to schedule your no-cost, confidential consultation, call 305-423-3800.