What If I Have Headaches After a Miami Car Accident?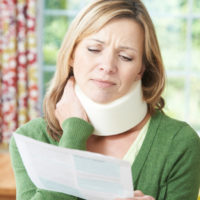 If you are experiencing headaches after a car accident, it is important you talk over your situation with a medical professional, even if you think the headaches you are experiencing might be minor. Because the truth is headaches can be symptoms of serious injuries, including concussions, traumatic brain injuries, and whiplash.
After a Florida car crash, get the medical attention you need and talk to a Miami car accident lawyer about compensation.
Headaches Can Be Symptoms
With car crashes causing the body to twist, shift and turn in abrupt ways, severe injuries can result. While injuries can be connected to blows to the head, there are also times when injuries are present even without impact.
Headaches can be indicators of the following:
Whiplash is when the body goes through a sudden movement creating injury. This could be tendon damage or sprained muscles. Severe injuries can result, including spinal harm.
If a person's head is impacted in a car crash brain swelling can occur. There are not always symptoms of concussion right away. Sometimes the symptoms (light sensitivity, dizziness, nausea, blurred vision, and more) do not even appear within hours, it can take days or weeks in many instances.
Traumatic Brain Injuries. Blows to the head can result in cell and tissue damage known as traumatic brain injury. Physical and mental issues can follow. It is important to be aware of the symptoms, including balance issues, tremors, and sleep changes, and to talk to your doctor about other indicators to watch out for.
Because the repercussions from head injuries can be lifelong, seeing a doctor as soon as possible is advised. Headaches can be indicators of health complications that need to be addressed immediately. Do not dismiss a headache after a car accident. Discuss the situation with a medical professional.
Car Accidents and Brain Injuries
Car crashes can be traumatic events. There are times when injuries are mild, but there are also times when severe brain injuries happen. Surgeries and therapy might be needed, a doctor is able to put together a plan to move forward.
Because the human body is not designed for high speed impacts, there can be life-threatening injuries. Even when crashes occur at speeds drivers themselves do not regard as harmful. Impact along with violent jerking of the body causes harm. Recovery periods can be long.
There are many types of injuries that can result from a car accident. Some are immediate, others are not apparent right away but that does not mean they are any less dangerous. Silent symptoms are a reality. Seek medical attention as soon as possible after a crash.
Were you in a car accident? Have you been experiencing headaches? Talk to a knowledgeable personal injury lawyer to discuss your path to compensation. There may be compensation available for medical bills, lost wages, and pain and suffering. The Miami personal injury attorneys at Spencer Morgan Law will fight for fair compensation. Contact us today at 305-423-3800 to schedule your free consultation.
https://www.smorganlaw.com/when-to-take-an-ambulance-after-a-car-accident/