What Are CAD And WAD?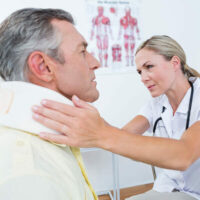 All industries have terms and acronyms that are specific to the duties of the profession. This is true in medical fields and in the area of law called personal injury. For example, if you were in a Florida car accident, you may hear the term cervical acceleration-deceleration syndrome  or see the letters CAD on your medical chart. Additionally, whiplash associated disorders or WADs, may be discussed. Whiplash injuries are painful, and treatment plans may require medical care and time off of work, leading to a stressful combination of high expenses and income loss.
There is a difference between CADs and WADs. Basically, CAD, which stands for cervical acceleration-deceleration syndrome, is describing how whiplash harm happens, when the body is whipped unnaturally. And WADs are referring to what health effects are a result of a person's head and neck pushing forward and snapping back during a car crash or other injurious event. If you are suffering from a whiplash injury, discuss compensation options with a Miami personal injury lawyer.
Being Struck from the Rear and Whiplash Associated Disorders
Whiplash associated disorders, or whiplash injuries, are often the result of a car accident in which the injured individual was struck from the rear. When your head and neck are forced back, rising the top vertebrae into your skull, and then your head is snapped forward, injuries to ligaments and muscles occur. And because your safety belt is keeping your body in place, it is a cervical acceleration-deceleration event.
Symptoms of WADs
Neck, shoulder, and back discomfort and pain
Mobility is hindered or neck is immobile
Trouble with coordination and balance
Tingling and numbness
Fatigue, insomnia, and other sleep concerns
Experiencing sadness or depression
Brain fog or confusion
While you should absolutely see a doctor if you are experiencing any of these symptoms, seeking the advice of a healthcare professional is best practice after a car accident or slip and fall event even if you are not having symptoms. After all, some injuries are slow to appear.
Talk to a Florida Personal Injury Lawyer
Securing financial compensation for shoulder, back, and neck injuries is an area of expertise for seasoned Miami personal injury lawyers. Working with a skilled legal professional can lead to a smooth insurance negotiation process, meaning you will be able to close your claim and receive a full financial package as fast as possible. An attorney will also allow you to focus on your physical recovery as they can gather evidence and take care of all filings.
Are you recovering from whiplash associated disorders after a Florida accident? Whiplash is common after car crashes and slip and fall events. When you have medical bills that are far higher than you can afford, discuss your situation with a lawyer, financial recovery could be in reach. An attorney has the background you need, they will be able to tell you the worth of your claim and will work toward securing the maximum amount.  Reach out to the legal team at Spencer Morgan Law today. Book your no-cost, confidential meeting, call 305-423-3800.