Ways to Avoid Recreational Boating Accidents in Miami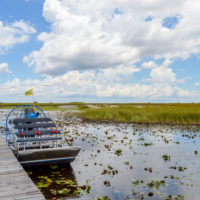 Florida is the fishing and boating capital of the world. For the Fourth of July, the name will live up to the expectation as people will spend time boating on the water in Miami with family and friends to watch fireworks and enjoy the time off from work. Although you've heard boating safety tips and ways to avoid boating accidents over and over again, our Miami personal injury attorneys want you and your family to have a safe and happy Fourth of July holiday.
To stay safe while boating on the Fourth of July, as well as any other day, here are some ways to avoid recreational boating accidents in Miami:
Do Not Mix Boating and Alcohol 
The State of Florida prohibits drinking while boating and using drugs while boating — also known as boating under the influence (BUI). The same goes for drinking and using drugs while on jet skis and any other types of water transportation.
The U.S. Coast Guard states in its 2017 report that alcohol is the leading known contributing factor in fatal boating accidents and that alcohol is the leading factor in 19% of deaths.
If you boat under the influence, you could face penalties and charges such as a:
You may also pay fines, court costs and receive jail time.
To save people from facing these penalties and to prevent BUI boating accidents during the holiday, the Miami Dade Police Department is conducting a 3-day boating under the influence initiative from July 4 through July 7, to keep the water safe. 
Drink Plenty of Water 
Staying hydrated is important while boating. Be sure to drink water throughout the day and refrain from drinking sugary, caffeinated drinks because they cause hydration.
Wear a Life Jacket 
Like a seatbelt can save your life in a car, life jackets can save your life while boating.  CBS Miami reports that 90 percent of fatalities on the water are due to people not wearing a life jacket.
Don't Overload the Boat 
When people overload boats, a disaster is bound to strike. Each boat comes with a capacity or weight limit it can handle. Unfortunately, people ignore the boat's capacity and overload it with passengers, gear and other items to keep them occupied while in the boat.
Be Aware of the Weather 
Take some time to review the weather report for any activity that may cause a boating accident. When you begin to experience lightning strikes, strong winds and rain, it's time to get out of the boat and take cover.
Although these tips sound like common sense, recreational boating accidents still occur because people fail to follow them. In a WiOD News Radio article, Bekah Nelson of the Fish and Wildlife Conservation Commission said most accidents and injuries could be prevented if boaters pay attention to their surroundings and use basic safety measures, especially as Florida's waterways get busier.
Contact a Miami Boat Accident Attorney If You've Been Injured in a Boating Accident 
If you or someone you know has been injured in a boating accident in Miami, you need an experienced and knowledgeable Miami boating accident attorney to help you get the maximum financial compensation you deserve.  Call Spencer Morgan Law as soon as possible at 305-423-3800 to schedule your free consultation.
Resources:
wiod.iheart.com/featured/florida-news/content/2019-05-23-boating-accidents-deaths-down-in-2018/
miami.cbslocal.com/2019/07/02/south-florida-boaters-play-safe-fourth-of-july/
coastguardnews.com/coast-guard-releases-2017-recreational-boating-statistics-report/2018/05/29/
https://www.smorganlaw.com/common-contributing-factors-in-boating-accidents/