Wall Collapses On I-95 And Kills 2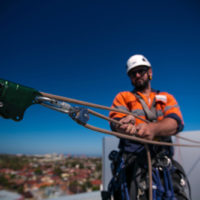 Construction accidents are all too common occurrences, especially along roadside construction sites. Though most sites come with warning signs miles in advance of the actual construction zone, a work zone crash occurs on average once every 5.4 minutes. Of the daily occurrences, 70 of them resulted in at least one injury. Every week, an average of 12 work zone crashes occur that result in at least one fatality.
Construction is the most dangerous fields one can be in, which is why the industry is so heavily regulated and bogged down with safety rules and best practices. Yet, despite the restrictions, preventable accidents still occur. In fact, one such accident just occurred last month.
Two Men Killed When Concrete Wall Collapses
On February 4, a typical Sunday morning, two construction workers died when a concrete wall along Interstate 95 fell on them. While workers or the companies for which they work can only do so much to prevent a car from careening into the work site, it is hard to believe that something could not have been done to prevent a wall from collapsing in an active work zone.
According to sources, the workers were down in a trench repairing drain pipes when the accident happened. The incident was reported at 3:15 a.m. Rescue crews arrived to find both men pinned beneath the rubble. They were pronounced dead at the scene.
Remedies for Construction Zone Accidents
In most normal cases, the injured workers would simply file a complaint with OSHA and a workers' compensation claim. However, in a case like this one, neither a complaint nor workers' compensation claim can help the victims or their family members. If the families owners hope to retain compensation for their losses, they would have to file a private cause of action.
Landowners and construction companies are held to the laws outlined in Florida Statutes Chapter 553. If, after performing an investigation, OSHA determines that a company or landowner failed to adhere to the conditions set forth in the Chapter, that entity would be held financially liable for damages accrued in an accident. In the case of the two deceased workers, the families may be able to file a cause of action under 29 CFR 1926.650, Subpart P, which deals exclusively with excavation and trench worksites.
Why Retain an Experienced Miami Construction Accidents Lawyer
Construction accidents may occur on a far too frequent basis, but that does not mean that they are easy to win. The laws governing the industry are not just complex—they are also very complicated. If you or a loved one was injured in a construction accident in Miami, contact our construction accident attorneys at Spencer Morgan Law for immediate legal assistance. Our team can assess the circumstances leading up to the accident, gather evidence necessary to prove liability, and help you fight for the compensation you need to recover in comfort. Call our team to schedule your free consultation today.
Resources:
ops.fhwa.dot.gov/wz/resources/facts_stats/safety.htm
law.cornell.edu/cfr/text/29/1926.650
nbcmiami.com/news/local/Two-Construction-Workers-Dead-After-Concrete-Wall-Collapse-on-I-95-472600333.html