Unique Dangers for Tractor-Trailer Accidents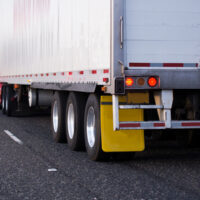 Tractor-trailer accidents can be extremely dangerous. This is true for a variety of reasons, one of the main ones is the sheer size of the vehicles. These vehicles can weigh between 40,000 and 80,000 pounds. With this weight shifting on the road, an accident involving a tractor-trailer can be deadly or result in serious, lifelong injuries.
Florida motorists must share highways and roads with these large commercial vehicles everyday. If you have been injured in an accident involving a tractor-trailer, contact a Miami truck accident lawyer.
Causes of Large Truck Accidents
With their size and weight, some tractor-trailers need a period of time to brake to a complete stop. This is acceptable when a driver has advance notice of a stop coming. But if something unexpected happens an immediate stop may be difficult or impossible. Combine trouble braking with how difficult it can be to maneuver a large truck and accidents can result.
Even more dangerous is when trucks have hazardous materials within their cargo holds. If there are materials that are explosive or flammable, an accident can escalate in harm rapidly.
Other causes of tractor-trailer crashes:
Cargo loaded incorrectly. When cargo isn't placed properly, the weight of the load can shift unexpectedly and overturn the vehicle.
Reckless driving. It is essential the truck driver does not drive recklessly or carelessly.
Rear-end collisions. When braking ability is poor, rear-end crashes can occur.
Sleep deprivation. Drivers going long distances may be fighting fatigue, which can impair judgement and perception.
Driving under the influence. Alcohol and drug use can cause accidents.
Ways to Avoid an Accident with a Large, Commercial Truck
When accidents can be avoided, everyone is safer. Things car drivers can do when they see a big rig on the road include giving the truck extra space to maneuver, staying out of the truck's blind spots, avoid braking unexpectedly, and staying visible with lights and turn signals. While driving defensively and safely are always recommended, accidents still do happen.
When there are collisions, large truck accidents can result in serious damage and injury. It is rare for everyone to walk away without any injuries after being hit by a large, commercial truck.
Cases involving commercial trucks are different from car accident claims. With trucking companies ready to argue each step of the way, you need a Miami truck accident lawyer to fight for you and your family. After all, truck companies are going to do what they can to keep all settlement amounts to a minimum. It is not simple to recover financially, but an experienced attorney can help.
Trucking insurers begin to work on claims right away, so you need a lawyer as soon as possible, too. Truck accident cases are notoriously complex, let the experienced Miami truck accidents lawyers of Spencer Morgan Law discuss the facts of your case with you.
Call Spencer Morgan Law at 305-423-3800 to discuss your case today. Then, we can set up a no-cost, confidential consultation and move toward a settlement claim for you and your family.
https://www.smorganlaw.com/florida-drivers-participate-in-distracted-driving/