Types Of Tourism Injuries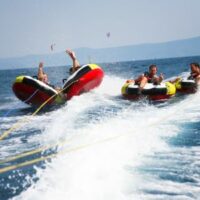 According to one report, there are over 115 million Florida visitors every year. Individuals, couples, and families come to Florida from other US states and from other countries to enjoy all the Sunshine State has to offer. If you or someone you were traveling with was injured while visiting Florida, connect with a Florida injury attorney. Hiring a FL lawyer means you will have a legal expert familiar with state laws, a professional fighting for your right to a full and fair compensation amount.
A dedicated, qualified Miami personal injury lawyer can help you with your personal injury claim options, whether you were visiting Florida at the time of your injury or are a resident.
Where Tourist-Related Injuries Occur
Some injuries are more likely to be sustained by individuals on vacation because tourists are typically spending their days in ways that are different from individuals who are at home. After all, when you aren't on vacation you are typically following the typical work days and weekend routines of your friends and family members rather than seeking one-of-a-kind experiences.
Examples of Florida tourist injuries include the following.
Injuries sustained at amusement parks. There are a range of amusement park injuries that are possible, including when theme park rides malfunction or standard safety protocols being abused or not adhered to with care.
Slip, trip, and fall accidents. Owners and managers of properties open to the public have a responsibility to maintain safe spaces. This includes keeping walking areas free of debris and having adequate lighting.
Accidents on elevators and escalators. Hotels, shopping malls, and other large facilities often have machines to help tourists move through the space effectively and efficiently. While elevators and escalators can be part of this plan, it is essential they are working properly and any dangers are repaired without delay.
Cruise ship injuries. Individuals vacationing on cruise ships have been injured because of individual negligence on the ships themselves and on off-ship excursions.
Vehicular accidents. Car accident claims are possible when tourists are driving their own vehicles, are operating a rental car, or are traveling in a rideshare vehicle such as an Uber or Lyft. There have even been claims filed after injuries were sustained on rental car shuttle buses.
Depending on how you were hurt, you may have sustained burns, fractures, head injuries, abrasions, or another form of harm. Large bills, expenses, and fees are possible, sometimes far more than a person is able to afford, even after their health insurance coverage has handled a portion of the costs.
Were you hurt while vacationing in Florida? Tourism-related accidents can happen, and if they happen to you, take steps to secure the financial recovery you need. In fact, you may be eligible for a compensation option you never considered. To learn more, connect with the legal team at Spencer Morgan Law. Even if you are back in your home state, the seasoned Florida attorneys at Spencer Morgan will look over your documentation and determine who is accountable and how much your claim is worth. Schedule your free consultation today, call 305-423-3800.