Trucks Running Late May Ignore Red Lights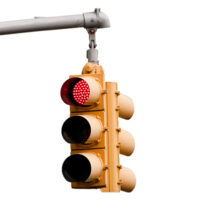 Stressed drivers who are running late can lead to traffic accidents. For example, if a truck carrying a heavy load runs a red light because they are on a tight schedule and believe they can make it on time with one quick risk, it is possible a vehicular accident causing property damage and personal injury will follow.
Being under pressure happens, but everyone on Florida roads need to keep in mind that staying calm is essential to keep themselves and others safe. If you were struck by a truck driver who was speeding or failing to follow traffic signals because they were running late, seek a financial recovery package. Have a conversation about the details of your crash with a Miami personal injury lawyer.
Over Half of Drivers Admit to Running Lights
According to one study, over half of drivers acknowledged they have run red lights. They may do this because they thought they could make it through a yellow light and it turned red or they simply ignored the red light because there was no one else around or they were in a hurry. But either way, misjudging a light or intentionally ignoring a traffic signal is hazardous and illegal.
Commercial truck drivers can be under a lot of pressure to stay on-schedule and make their deliveries on-time. Additionally, they may be tired or distracted by a GPS device directing them to their next delivery point.
Some of the reasons drivers may drive through a red light:
Paying attention to a GPS system or other device and not realizing light was red.
Drowsiness leads to drivers not paying attention to surroundings.
Driving in an unfamiliar area and an obstructed sightline blocked the light.
Running a red is incredibly dangerous and is a form of aggressive driving. Whatever the reason for doing so, if a truck driver or other vehicle operator runs a red light, injuries and damage can follow.
Truck Companies Often Have Fully Staffed Legal Departments
When a person is involved in a traffic collision with a commercial truck, it is important to keep in mind that truck companies often have legal professionals on their payroll. This means they are ready for any insurance claims. Enter a negotiation with the same amount of preparedness, hire a Miami personal injury lawyer.
Connecting with a seasoned attorney gives you an opportunity to discuss what options are available at a no-obligation consultation. Then, armed with knowledge, you can determine the best path forward for you and your family.
Is your injury the result of a truck driver running a red light in the Miami area? An attorney can help you secure a full recovery. Because commercial truckers have legal teams behind them, insurance negotiation can be complicated. You need a legal professional on your side. The legal team at Spencer Morgan Law can help, they can tell you how at a no-cost, confidential assessment. Talk through the details of your situation with our skilled lawyers, contact us at 305-423-3800 to schedule a meeting.