Things Florida Pedestrians Should Do After an Accident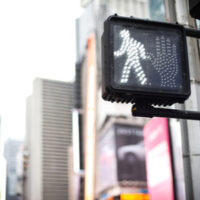 Often, people are so familiar with the routes they take that they cross streets as soon as a light turns green. They may not think they need to be cautious. After all, aren't all of the cars on the street following the traffic signals and laws? Unfortunately, not all cars are behaving in a manner that keeps Florida pedestrians safe. Distracted drivers and reckless vehicle operators strike pedestrians all too often.
According to one report, Florida cities accounted for nine of the 20 cities with the most pedestrian fatalities. This is a terrifying number that is a direct result of drivers not being as cautious as they should, whether they are under the influence or simply not paying attention. When accidents happen, medical expenses can be high, connect with a Miami car accident lawyer to discuss damage recovery options.
Faulty Signals Can Also Be an Issue
There are times when a driver does not carry all of the fault for hitting a pedestrian. This could be true if there were faulty signals at an intersection, for example. If this is true in your case, a municipal claim may be part of your damage recovery.
But, faulty lights are not common. Often accidents happen because people are behaving recklessly or simply not paying attention. Florida cars collisions happen both when pedestrians are within crosswalks and when they are not. Accidents can happen at any time.
Gathering Evidence After a Pedestrian Injury
It is always wise to collect documentation following a crash. Evidence is needed when insurance claims and lawsuits are being decided. There are a variety of documents that could be helpful. But when a pedestrian is struck, they are not thinking of evidence. They are likely only thinking of how to get help. In these instances, some items may be gathered later. A lawyer can help with the following.
Contacting a local police department to get a copy of a police report
Gathering images of injuries, accident site, and vehicular damage
Talking to witnesses and ask for their accounts of the accident
Injuries need to be treated right away by medical professionals. Then, once you have a treatment plan in place, talk to a Miami car accident lawyer.
People who do not work in the insurance business or as legal professionals do not manage the details of car accidents every day. Rely on experienced professionals if you were a pedestrian struck on a Florida street. Lawyers know from experience what forms of evidence are needed to strengthen your claim. The insurance company is assessing your claim, know what your claim is worth before accepting a settlement offer. Do not accept an amount that is too low.
Did you sustain injuries when you were struck by a Miami car? Talk to the Miami personal injury attorneys at Spencer Morgan Law. Accident cases can be complex, a knowledgeable attorney is needed to navigate the complicated negotiations with insurance companies and legal professionals. Contact us today at 305-423-3800 to schedule your free consultation.